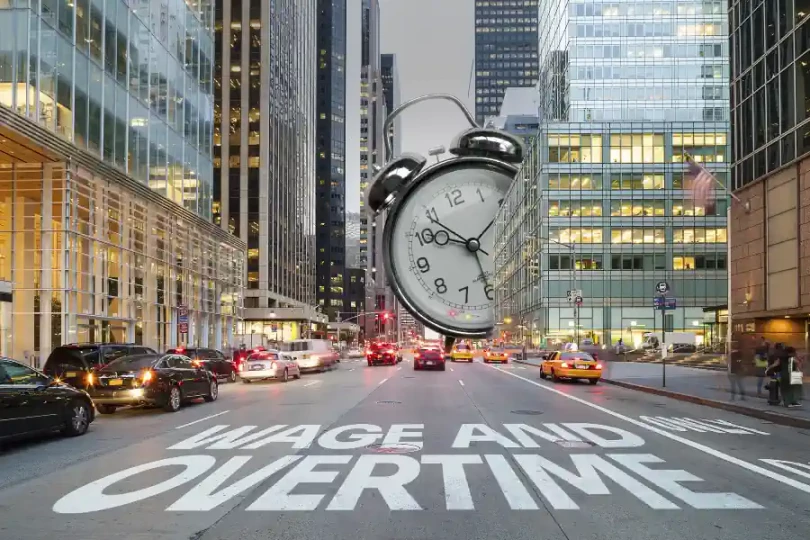 New York has many rules about fair wages, so make sure you know them all.
Working in New York can be challenging, but you know what makes it even more complicated? Trying to figure out how much you should be getting paid
Many labor laws in New York dictate how much workers should be paid and how that pay should be tabulated. If you're unsure about your pay or overtime wages, this article will help you understand the ins and outs of paying fair wages according to New York law.
What is the Current Minimum Wage in New York?
In New York, the minimum wage is currently set at $14.20 per hour for 2022 and will probably be raised to $15.00 starting in 2023. However, most of the state (New York City, Westchester, and Long Island) is already enforcing $15.00. This is significantly higher than the federal minimum wage of $7.25, it's more than double.
Everyone who is an hourly employee (getting paid by the hour) should receive a minimum of $14.20. The only exceptions are for tipped employees, which typically include bartenders, restaurant servers, and the like.
How Does Salary Work?
A salary is a fixed, regular payment rate you are paid by your employer, usually weekly, biweekly, or monthly. The employer decides how much it will pay each employee in order to do their job, regardless of how many hours they work, or any extra work done outside of regular business hours.
Salaries are based on a person's qualifications and experience level, so it's possible that two employees could be in the same position with different salaries because one employee has more experience than another.
How Much Should I Get Paid?
This is going to depend on your perceived value and how much the company you are working for agrees to pay you.
Let's say you're making $10 per hour as a server. You notice that the going rate for your position is $12 an hour, so you ask for a raise. Your boss says no. So, you look around and find a comparable restaurant that is willing to pay you $12 per hour plus overtime opportunities and bring that offer back to your current boss. They then have the option to meet the same offer, or let you go to the other company.
What is Overtime?
Overtime is time worked in excess of 40 hours per week that must be paid at 1.5 times the regular rate of pay per New York State labor laws. This can include any hours over 40, not just those added to a shift for special projects or emergencies.
While most salaried employees are ineligible for overtime, hourly employees are legally entitled to receive wages based on their total number of hours worked each week, including overtime hours.
So, if you make $20 per hour and end up working 60 hours a week, the 20 additional hours beyond your regular week period would be paid at time and a half. That would mean you would earn $30 per hour for a total of $600 extra dollars (20 overtime hours X $30 per hour).
There are some exceptions to overtime. If you receive premium payments for working on the weekend or get paid vacation, discretionary bonuses, or other gifts, those will not count.
How is Overtime Calculated?
In general, overtime is strictly calculated by any hours over 40 in a single workweek multiplied by time and a half of your regular hourly rate.
(Hours Worked – 40) X (1.5 X Hourly Rate) = Overtime Pay
Can Salaried Employees Get Overtime?
This is a bit complicated. There are a lot of gray areas concerning how one can and cannot get overtime pay. In almost all cases except for tipping workers, employees paid an hourly wage are entitled to overtime pay.
However, some salaried employees also are eligible for overtime as well. Then there are the considerations of federal labor laws versus state labor laws. Almost all this gray area requires the assistance of a legal advisor to iron out because it is so complex.
But essentially, if you are a salaried employee working in New York, you could still be eligible for earning overtime pay.
Are there New York Labor Laws I Should Know?
It's essential to know your rights as an employee, especially in New York. If you feel like you're being underpaid for the hours you've worked, there are laws in place to protect you.
In addition, if your employer breaches any employment contracts or fails to pay out overtime when it is due, then there are also laws in place that can help remedy this situation.
If your employer hasn't been giving you the pay you deserve, then it's time for action! You need a lawyer who can help guide you through this process with ease so that everyone gets what they deserve - and quickly!
There are many laws governing wage and overtime in New York, and they tend to favor the worker. As a result, you may not be paid what you think you're worth.
Experienced Class Action Attorney: Fighting for Your Rights

With years of experience and a commitment to justice, our class action attorneys are dedicated to representing individuals facing issues with debt collectors, background check companies, credit reporting agencies, and associated errors. Our firm has a proven track record of delivering results, with satisfied clients and significant financial recoveries. Best of all, our services are provided at no cost to you. If you're ready to stand up for your rights and join forces with others in a class action lawsuit, contact our experienced team today. Together, we can make a difference and seek the justice you deserve.
Where to Get Help
New York has many rules about fair wages, so make sure you know them all. As this information is constantly changing, it's important to contact an employment lawyer if you have questions or concerns about how your wages are being calculated.
Our team has the legal experience to help navigate your situation. We can devise if you are entitled to overtime pay according to current New York State labor laws and regulations. Don't miss the chance to recoup some of your owed wages, give us a call today!