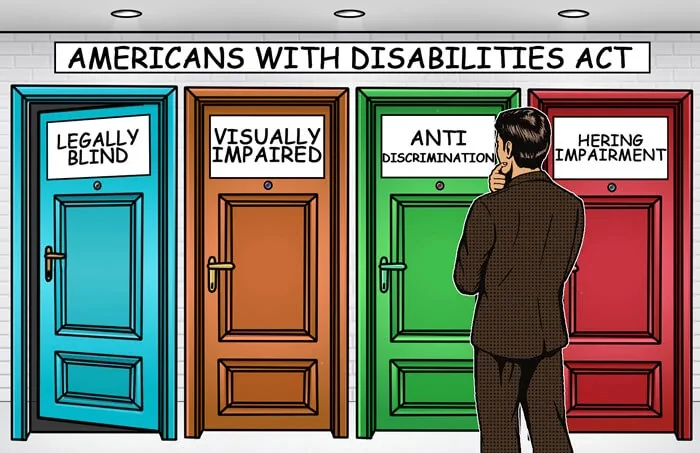 For the past three decades, the landmark Americans with Disabilities Act has helped people with mobility and sensory limitations by breaking down barriers that had prevented them from participating in society.
It is difficult not to see vast changes that the ADA has made to physical spaces - the law brought about wheelchair ramps for entrances to churches and schools, curb cuts on sidewalks, braille lettering on signage. This list goes on.

But despite the advances made in the 30 years since the law was put on the books, people with disabilities still face obstacles in the digital space when they go online to conduct business, stay informed or get an education.
The team at Consumer Attorneys fights aggressively for people who are denied equal access to websites and smartphone apps because of a lack of accommodations for their physical limitations.
Our attorneys have filed more than 1,000 lawsuits to hold companies and institutions accountable for their digital accessibility issues. The firm has long been on the front lines of the effort to ensure that people with disabilities can be part of both the physical and digital worlds.
The Fight Is Not Over
Since President George H.W. Bush signed the ADA into law in 1990, at least 61 million Americans who have some type of a disability have been provided with accommodations such as sidewalk ramps and side-language interpreters in public meetings, according to the latest figures from the US Centers for Disease Control.
Since the ADA was put on the books, communities across the country have made considerable changes to ensure that all people have equal access to physical spaces like schools, health care facilities, supermarkets or airports.
The unprecedented growth and development of communications technology has opened up a new world for those who depend upon wheelchairs to move around or other devices for reading and hearing.
With the Internet and other tools at their disposal, disabled people have greatly expanded access to government services, marketplaces and lines of communications with their medical providers and loved ones.
But despite this seemingly equalizing force, disabled people are still being left behind.
People hand-dexterity impairments may have difficulties navigating websites on touchscreens, for example. And many government and business sites carry videos without captioning, which excludes the hearing impaired from being able to consume the content.
A recent survey of 10 million websites found that some 98 percent of menus and 71 percent of online forms failed to meet accessibility standards, social activist Caroline Casey wrote in an opinion piece for NBC News commemorating the 30th anniversary of the ADA.
"The lack of accessible websites is particularly frustrating because there are many simple fixes that exist if website designers and owners felt motivated to implement them," Casey writes.
How the Americans with Disability Act & Website Accessibility law works
Companies accused of Americans with Disabilities Act violations on their websites can't get lawsuits dismissed just by claiming they have installed programs to fix those issues - especially when accessibility issues remain, a federal court ruled.
This ruling from a Northern District of Georgia court is a win for plaintiffs fighting against institutions accused of running websites with barriers to people with disabilities, as it shows that federal courts won't let defendants off easy when they face ADA website lawsuits.
In March 2020, visually-impaired Georgia resident Todd Taylor filed a lawsuit under Title III of the ADA against clothier H. Stockton-Atlanta, Inc., a company that operates a website that allows customers to buy products online or find addresses and hours of operation for its brick-and-mortar stores.
Under Title III of the ADA, companies and institutions are required to make accommodations on their websites for people with sensory impairments - just as they would at their physical storefronts.
Taylor says he tried to use the H. Stockton website with the help of screen-reading software but he found obstacles that prevented him from making purchases and finding information about the company's physical stores, including broken hyperlinks, missing labels for certain webpage elements and a lack of alternative text for images.
Company owner Hamilton Stockon III claims that after the suit was filed he purchased an annual subscription to "accessiBe," an online service that can modify websites to the World Wide Web Consortium's international guidelines for making websites more accessible for people with disabilities.
Stockton claims in court papers that he purchased the subscription about one month after the case began - and argued in a motion to dismiss filed just two weeks later that Taylor's lawsuit should be dismissed because it had been rendered moot.
But US District Judge Thomas Thrash didn't let Stockton off the hook.
A forensic data expert audited the company's website on June 8, 2020 on Taylor's behalf and found that several barriers remain for the visually impaired - so it would be "premature" for him to dismiss the case on a mootness argument, the judge said.
Thrash also said that even if Stockton voluntarily alleviated the ADA issues that Taylor alleges in his suit by purchasing accessiBe, it would be "improper" to toss the case at this early stage - and that there is no reasonable expectation that ADA violations would not happen in the future because Stockton must renew his annual subscription to the service.
Further, the judge continued, Stockton has offered no explanation for making changes to the site beyond a "bland pronouncement" that he wants to make sure "any willing customer" can buy his products during the novel coronavirus pandemic.
"There is little to indicate that the Defendant 'was motivated by a genuine change of heart' rather than a desire to avoid liability in this action," Thrash wrote, citing standards established in a 2007 ruling by the Atlanta-based US Court of Appeals for the Eleventh Circuit.
People with disabilities have rights under federal law ensuring that they have equal access to online goods and services - and the team at Consumer Attorneys is here to help hold companies and institutions accountable in court if their digital spaces contain obstacles that violate the ADA.
How We Can Help
The ADA has helped usher in incredible changes to the physical world to equalize access for all people, regardless of their physical abilities or limitations. But the fight isn't over.
Government agencies, businesses and other institutions that fail or neglect to ensure that people with disabilities effectively access their online products and services should be taken to task - and Consumer Attorneys are here to handle those fights in court.
The firm is a proven leader in fighting for the rights of disabled people granted under the ADA and can hold violators financially liable for failing to make proper accommodations.
If you feel that your rights have been violated due to challenges with accessing websites and apps, contact Consumer Attorneys for a consultation.