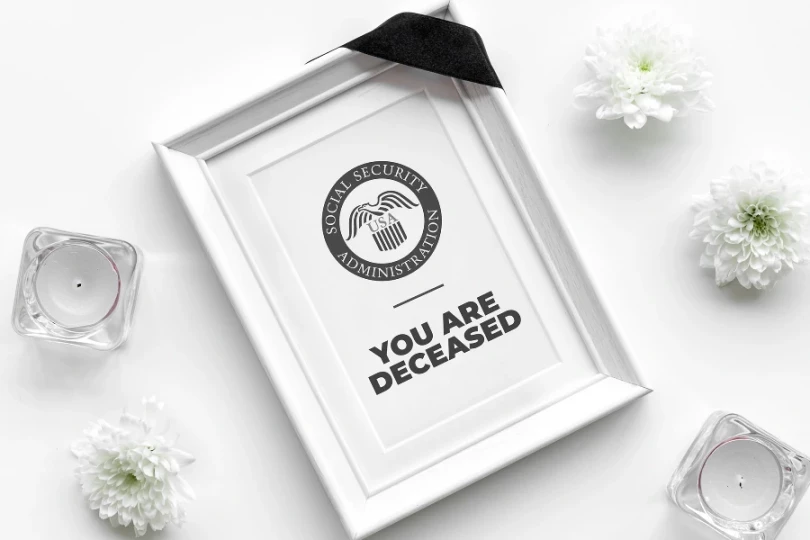 We recently worked with a client that was out for one of the great American pastimes - shopping for a car. They spent an afternoon exploring what kind of vehicle would work best for their lifestyle, took it for a test drive, and was ready to make a payment.
As their credit was run by the dealership, a new problem occurred. Instead of driving off the lot in a new car they could enjoy, our client was faced with a death notification on their credit report, immediately putting a stop to their car buying efforts. Somehow, they were mistakenly reported dead with the three major credit bureaus: Equifax, TransUnion, and Experian. Now they had a social security number reported as deceased.
Most of the time, when this happens, a consumer can reach out to the original account that reported a death on credit history. In this case, though, an additional step was required, and that was repairing their credit by also removing them from the Social Security Administration death index they had accidentally been placed on.
Why Does this Matter?
When you are reported as deceased on an account or a mistake has occurred, and you have been wrongly declared dead by social security, you are not likely to get any future consumer benefits. First, consider the repercussions to your credit report. Without a provable record that shows you are who you say you are financially, you will be ineligible for things like:
Mortgages
Personal Loans
Credit Cards
Bank Accounts
Car Loans
Job Applications
Housing Applications
Essentially, you no longer need any of these things because, according to the government, you are no longer alive to enjoy them.
The second problem is that the SSA has a lot of power over proving identity. Without their verification procedures, you will run into all kinds of issues getting future IDs, like renewing your driver's license or getting a passport for travel.
This means you will be stuck where you live without a method of getting gainful employment or leveraging credit to improve your lifestyle.
What is the SSA Death Master File?
Not everyone is reported as dead on their credit report because they actually died. You could share an old credit card with a parent or other family member who passed and then get wrapped into the death notification by accident because you have the same last name. You may also be the victim of identity theft or a malicious attack that declares you dead on your behalf.
The Social Security Administration maintains a Death Master File. The Death Master File (DMF) is a list of people who have died. It contains information for deceased individuals who were issued an SSN, both those who were born in the U.S. and those who were not. A person can be added to the DMF when he or she does not respond to any attempts by SSA to contact them and establish that they are alive. When someone reports their death via a family member or when SSA receives information from another government agency indicating that an individual has died, they are added to this file.
The DMF was created to prevent identity theft and fraud because it lists deaths that have occurred in the United States and its territories. The SSA uses this file to prevent fraud against credit reporting agencies as well as against other government agencies such as tax authorities or even law enforcement. The DMF has been around since 1972 and is updated every month with new death records from states across America, so it's fairly accurate - but not infallible!
How to Repair this Error with the SSA?
Once you have confirmed you have been erroneously listed as deceased on your credit report and you believe your social security number reported as deceased as well, you will need to take immediate action to ensure you will not experience the repercussions.
While you would think it is easy to prove you are still living and breathing, it is not as straightforward as you may imagine. You are going to need to:
Provide any documentation you have that proves you are alive that you can find. This may include a copy of your birth certificate, driver's license, passport, military ID, and other essential documents.
If you don't have any of the above documents available but can provide someone who can verify your identity (like a friend or family member), then it will be necessary for them to provide their personal information so that the SSA can contact them when they take further action on your case.
If none of these options work for you, then you are going to need more help. Navigating this bureaucratic world is not an easy feat. Most SSA agents will request that you meet face-to face and answer questions related to your credit history, like verifying your previous addresses, any open accounts you may have held, where you went to school, etc.
If you are lucky, you will get the SSA staffer to remove an erroneous death listing. It is more likely that you will have to track down the original error and account that first listed you as deceased on your credit report. You should be able to work your way from there and alert the corresponding credit agencies in turn.
The SSA should issue a letter claiming you are who you say you are and that you are alive. If a death certificate was ever issued, a new one with the updated information will need to be released that you can send to banks, credit agencies, and other interested parties.
Be prepared to wait a while. This process is not speedy because everyone involved wants to confirm with as much certainty as possible. Identity theft is a serious concern, and the SSA does not want to verify someone on their DMF is suddenly alive and kicking, only to find them committing fraud the following week.
What About the Damage to My Life?
This is an important question. While it may seem like a small error to repair, when the SSA declares you as deceased, your life is flipped upside down. This can cause severe emotional and mental distress resulting in the loss of housing, employment, and social status. Entire careers can be shut down due to an error of this magnitude.
While the Fair Credit Reporting Act certainly helps you fix minor errors on your report, it doesn't provide for being mistakenly reported dead to the SSA and the ripple effect afterward. That is where hiring an expert team comes into play.
If you have suffered distress of any kind or need the expertise to regain your status as a living human being, you should reach out to our team. We have direct experience in dealing with consumers that are erroneously listed as deceased and know how to walk you through each step, including pursuing legal action due to harm you have received.
Please use our form below to schedule a free consultation with our team so we can better assess your personal situation and guide you in the next steps forward.