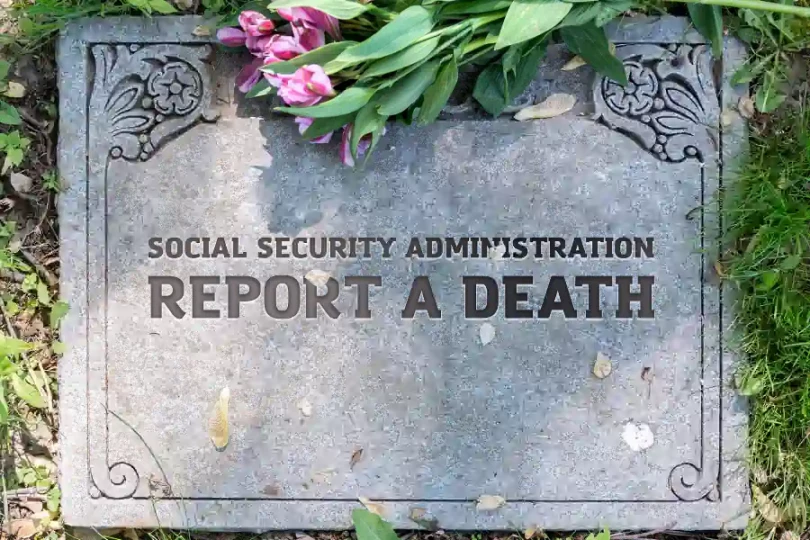 Thousands of Americans are being incorrectly reported as deceased every year by the Social Security Administration.
We work with clients affected by this issue all the time, constantly finding solutions to this problem and helping people correct it and move on with their lives
Credit Karma and the IRS Think I'm Dead! What next?
When you're one of the consumers this happens to, you can expect rapid and broad-reaching financial consequences, including a credit report deceased indicator disrupting your consumer credit profile. Being flagged as deceased on your credit report means that you can expect to lose access to lines of credit (like credit cards and home equity loans), financial assets (like savings and checking accounts), and benefits (like Social Security payments).
The truth is that this happens more often than you might think. And, unfortunately, sometimes false deceased indicators on your credit report result from identity theft. Thankfully, the lawyers who handle deceased indicators are also the lawyers for identity theft victims. So whether you need legal guidance to clean up a deceased indicator from your credit profile or legal advice on navigating the consequences of identity theft, a consumer protection attorney is your greatest asset. While it can be an uphill battle, we work with clients all the time who find a solution to this problem and are able to move on.
Let's get into detail about how this credit report mistake unfolds and what steps to take next.
Tried to File Taxes, but…
Maybe you tried to file your taxes and the IRS refused to accept them. Most of the time, this is because you are missing vital information like a bank account or W-2 from your employer.
Other times this is because the IRS has declared you to be dead. A deceased notation will effectively lock you out of your IRS account.
You'll be issued a notice CP01H that shows the person with your social security number is now dead. If you do receive this notice, you need to keep a copy and immediately send back any errors.
Be sure to return the documents with the following:
A copy of the CP01H notice
Written request to unlock the account
Photocopy of your Passport, Driver's License, Social Security Card, or other valid federal/state I.D.
Copy of your tax returns with new original signature
Is Being Accidentally Declared Dead Common?
Roughly 7,000 to 12,000 Americans each year are incorrectly reported as dead by the Social Security Administration.
This can result in unexpected problems such as:
Not being able to receive any mail or packages addressed to you
Finding out that your property has been sold at an auction while you were presumed deceased
Not being able to get a job
Not being able to rent an apartment
Not being able to secure loans or bank accounts
If you find out you were mistakenly declared dead, you should check your credit report immediately.
Credit Karma: Deceased Appears on Credit Report
Credit Karma is a free service that provides your credit score and offers lots of other information about your financial health.
However, it's not affiliated with the Internal Revenue Service (IRS), so you can't use it to check on your tax returns.
If the IRS uses the SSI to report death on your account, it will most likely show up on your Credit Karma report. The SSI is the social security's master list of deceased individuals with name, date of birth, date of death, and SSN attached. It is used by credit agencies to verify if an account or SSN is active or not. Unfortunately, it is inevitable that there will be mistakes on this list.
Why Does My Credit Report Say I'm Deceased?
It's not your fault that you received this notification. There are a few different reasons why someone might get this notice.
First, it's essential to know that credit reporting agencies (Equifax, Experian, TransUnion) and the IRS are two separate entities. The IRS doesn't have a database of who is dead and who isn't - the agency relies on what they receive from the Social Security Administration (SSA).
The SSA has a record of everyone alive or deceased and when they died, if applicable, because they issue Social Security numbers - this helps keep track of people and benefits paid out by government agencies like social security payments.
Second, the credit reporting agencies will notify the SSA of a death and vice versa. This is to confirm or deny such information, so no one makes a mistake. Alas, those mistakes happen all the time because of a misplaced digit on a form or two people having similar enough names and birthplaces to cause a human error.
Why do You need to Fix this Error?
Being listed as "deceased" by the IRS is a massive inconvenience.
You can't get a job (if they run a background check), buy a car (car dealerships often run background checks), get a loan (banks check credit reports), or even apply for a credit card (card issuers also check credit reports). Your life insurance rate will also increase if they discover you are not actually dead.
People will begin to assume you are trying to commit fraud or avoid some kind of legal issue instead of it being a mistake. Intent matters here. If you take action to remedy the mistakes, that goes a long way with an adjudicator in case this escalates to a court or legal situation.
What Will It Take to Repair This Mistake?
As a general rule, the best thing you can do is to contact the credit bureaus and dispute it. You want to ensure you send a letter to the credit bureaus explaining that you are alive and well. If it is a mistake, they will remove it from your credit report.
You also need to report the error to the SSA and the IRS. This way, any communication between agencies is interrupted by a notice that there was an error.
Do your best to have all of your communication in written or digital form that can be verified. The reason for this is simple, you may be owed legal compensation if the error resulted in damages like the loss of a lucrative job or a financial asset.
Not only that, but when a consumer reporting agency declares you dead when you are not, they are walking a thin line toward defamation and damage to your reputation. Under the Fair Credit Reporting Act, you may have cause for seeking financial compensation.
Conclusion
There are many ways that your credit report can be adversely affected. If it's in error, you have the right to dispute it and get it removed from your record. The problem is if the damage has already been done, you may want to seek legal remedies.
That is when you should contact our team for help. We have years of experience working with consumers just like you who have been accidentally declared dead.
Our team can walk you through the steps to get this repaired and even help set you up for legal challenges to receive damages due to the error. Reach out today, and let's talk about your unique situation.