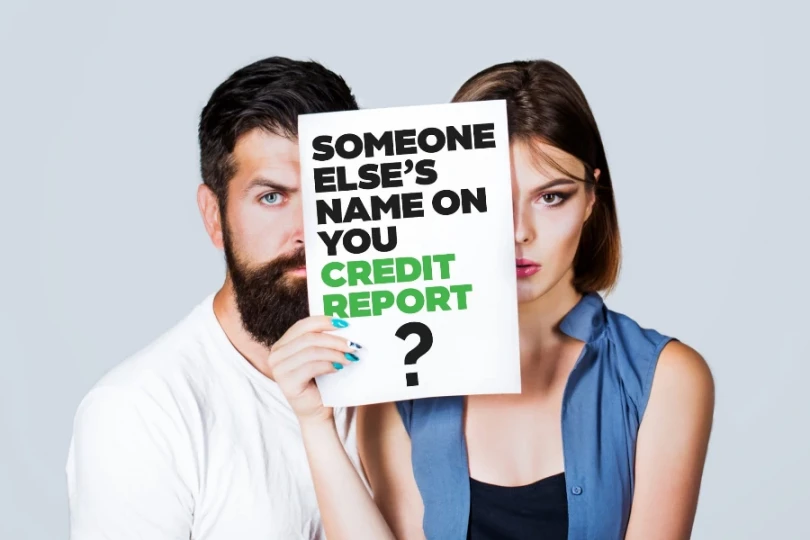 From renting an apartment to taking out personal or business loans, credit reports play an important role in the lives of consumers. They're often a determining factor in whether a bank or other lender makes a decision in favor of the consumer.
So when consumers work hard to build a good history and score, it can be jarring to see the wrong name on their report. Don't sweat it — here's what you need to know to make sure your credit report reflects your information accurately.
What is a mixed or "split" credit report?
Mixing or splitting a file is one of the most common errors made by credit bureaus, as well as one of the biggest headaches for consumers. Essentially, a mixed credit report occurs when credit bureaus include someone else's information on your credit report.
Mixed reports can have a significantly damaging impact on your credit score and your ability to get loans or credit. If the person whose information is on your report goes bankrupt, that mortgage loan application you filed could be denied by no fault of your own.
Experian Credit Report Is Wrong: What You Need to Know

Experian is one of the three major credit bureaus in the United States, and their credit reports are often used by lenders to make decisions about whether to grant credit or loans. If your Experian credit report contains errors or inaccuracies, it can negatively impact your credit score and your ability to obtain credit in the future. It's important to know what steps to take if you believe your Experian credit report is wrong, such as disputing any errors with the credit bureau or seeking legal assistance from a reputable law firm like ours that specializes in credit reporting issues. Don't let an inaccurate credit report hold you back - contact us today for help resolving any credit report issues.
Why did this mistake occur?
Mixed reports can be a result of a poorly organized and negligent credit system or identity theft. Usually in cases of identity theft, a consumer can see if payments were made under the false account, which means the mixed report is likely not due to fraud.
Instances of human error like typos or misspellings in your credit file can cause a mixed report, as can a credit bureau "mixing" you up with another person. For instance, people named after parents or relatives, twins, and siblings are frequently confused for one another on reports. Similar names, Social Security numbers, and addresses also make consumers vulnerable to reporting mistakes.
Other common reasons for mixed reporting include:
Common name;
Loan officers make clerical mistakes;
Co-signing for children or other people;
Individuals with the same name mixed at the CRA's side;
If married, the social security number of the incorrect spouse is entered;
When reporting data to the Credit Reporting Agency (CRA) personal information is entered incorrectly.
How can an eviction impact my credit?
Once an eviction is listed in your report, even if it is incorrect, your credit score may not be immediately affected. The eviction itself will not show up on credit reports from Transunion, Equifax or Experian.
But if the debt goes unpaid, a landlord can sell it to a collection agency and it could remain on your credit report for seven years if it goes unaddressed. This can cause your score to plummet.
Can I remove this incorrect information from my credit report?
The Fair Credit Reporting Act entitles you to have any and all erroneous information on your report corrected. By law, credit bureaus must correct any errors in a background report within 30 days of a dispute being filed.
First, you must call the credit reporting company and submit a written dispute letter outlining the mistakes in the report via certified mail. It's wise to submit information that confirms your claim, such as in the case of mistaken identity. Unfortunately, you will have to contact each reporting company with incorrect information on file individually to file individual disputes.
Once the information in your report is corrected, you're entitled to ask the screening agency to give the revised report to anyone who has received a report about you within the last two years. You may also request a free copy of your report within 60 days.
Are there penalties for credit bureaus of creditors putting the wrong name on my report?
If you suffered any financial or emotional distress as a result of a mixed report, or any other mistake made by a credit reporting company, you can receive compensation under the FCRA. You are also entitled to attorney fees and out-of-pocket expenses associated with challenging credit companies in court.
Our experienced attorneys are here to assist you in rectifying your mixed report.
What do I do if someone else's name or information is on my account?
After identifying the errors by looking at your credit report, which is free of cost, you'll want to contact the credit bureaus individually to dispute. You should send a dispute letter outlining the incorrect information and what it should say, with documentation if possible, via certified mail.
What about fixing someone else's name on a report?
Credit reporting companies are required to research your dispute and correct any erroneous information within 30 days. Document whatever information appears incorrectly and, if possible, include information that can help the credit bureau verify your claim faster.
You can also opt to sue a credit reporting agency through one of our seasoned lawyers at Consumer Attorneys, who will ensure you get the best results and compensation for losses caused by negligent credit reporting.
You may also find the following errors on a mixed report:
Someone else's personal details
Loans that aren't yours
Credit card debt
Unknown bank accounts and auto insurance
Does the FCRA help when you have a mixed report?
Yes, the FCRA protects consumers from errors like mixed reporting and requires credit companies to correct their mistakes in a timely manner. However, you still might suffer hits to your credit score and other consequences as a result of credit reporting errors like mixed reports.
You may want to consider hiring an attorney to hold credit bureaus accountable and recoup any financial or emotional loss. Consumer Attorneys offers a free consultation to help get you started on the road to untangling a reporting mess.