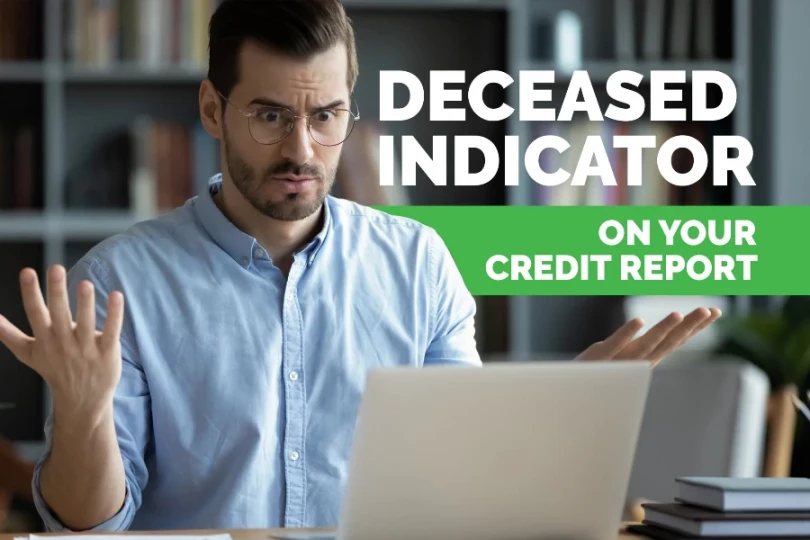 Each year in the United States, between 7,000 and 14,000 people are surprised to learn that they are deceased according to the Social Security Administration.
Of course, these people are not actually deceased, but incorrectly entered into the SSA's Death Master File, a database that includes the information — names, Social Security numbers, birth dates, death dates, zip codes and last-known residences — of millions of deceased Americans. All said, about 38 life-altering mistakes are made each day, creating complications for people who are incorrectly listed as dead.
If you're one of those unlucky errors in the SSA's Death Master File, there are actions you can take under the Fair Credit Reporting Act (FCRA).
What is a deceased indicator?
When the SSA enters an individual into its Death Master File, a special code called a deceased indicator is used to mark the consumer as dead. The indicator is then included in a consumer's credit report, where it appears simply as "deceased." These indicators close your report because you are considered dead.
Championing Consumer Rights Against Financial Institutions
Our law firm is a dedicated ally for every consumer facing challenges with debt collectors, background check companies, and credit reporting agencies. We employ our legal expertise to shield you from unfair practices, ensuring your financial reputation remains intact. Contact us today for skilled advocacy in your fight for fair treatment and to uphold your consumer rights.
Where is the deceased indicator located on my credit reports?
Consumers can find the deceased indicator on their Equifax, Experian or Trans Union credit reports by doing the following:
Look at the account on the report.
The account should state who is accountable for that bill. It will appear as individual, joint, deceased, or undetermined.
If the account says "deceased," you have located the death indicator. A listing of "undetermined" means there is confusion about your account.
How do you report a death to the Social Security Administration?
In the event of an actual death, funeral directors usually submit a form to SSA as part of the funeral package. If survivors are in a position to report the death, they can do so by contacting their local Social Security office.
What happens when you are mistakenly declared dead?
Being incorrectly declared deceased is a common mistake that affects thousands of consumers annually. It's also a violation of consumers' rights under the FCRA and can create a slew of complications, such as:
Denial for loans or lines of credit
Denial of access to personal bank accounts
Difficulties renewing a driver's license
Denial of health insurance
Challenges when searching for employment or housing
Termination of Social Security benefits
Denial of tax refund
A consumer's credit score returns to zero when he or she is declared dead, posing day-to-day challenges for consumers.
Does a mistaken death indicator violate any laws?
Yes. An erroneous report of a consumer as deceased is in violation of the FCRA, which states that "whenever a consumer reporting agency prepares a consumer report, it shall follow reasonable procedures to assure maximum possible accuracy of the information."
As such, agencies that report a consumer as dead but do not verify the information are breaking the law and violating consumer rights by not providing accurate information.
What do I do to correct the mistaken death indicator?
There are steps consumers can take to untangle their erroneous death indicator. Consumers will need to correct the mistake quickly as they will be unable to complete necessary tasks of daily living once the mistake is included in reports.
Fixing this mistake can be a long and frustrating process. First, start by visiting your local Social Security office, bringing along two or more of the following original documents:
Passport
Driver's license
Military ID
School ID
Marriage or divorce record
Adoption record
The documents must be original or certified copies from the issuing agencies in order to be considered valid by the SSA. Once the mistake is corrected, the SSA will provide documentation in a letter, which you will then need to provide to multiple agencies in possession of the bad information to prove you're alive.
It's wise to monitor your credit reports to make sure the information on them is updated and accurate.
Can I sue credit bureaus for reporting me as dead?
Resurrecting yourself from Social Security death can be a bureaucratic nightmare. Luckily, our experienced attorneys deal with cases like this on a regular basis and can expedite this exasperating process. Federal law also states that victims of false credit reports have the right to attorney's fees for rectifying credit and dealing with agencies.
The National Consumer Law Center reports that consumers disputing inaccurate information in a credit report may not be enough. If you're struggling to get rid of an erroneous death indicator, contact Consumer Attorneys today to be linked with the best consumer legal assistance.