Identity Theft Lawyer Arizona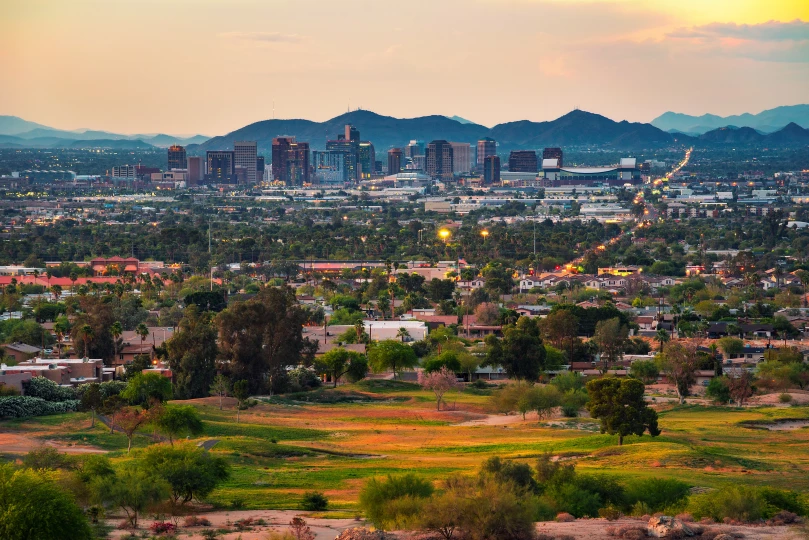 Identity Theft Lawyer Arizona. We fight for our clients, ensuring they receive just financial compensation. Contact us today.
Arizona, the Grand Canyon state, is flooded with sunshine and warm weather for the vast majority of the year. However, there is nothing grand or sunny about the amount of identity theft that takes place in the state. In fact, Arizona has the dubious distinction of ranking ninth in the United States for identity theft, according to the Federal Trade Commission.
Find a Consumer Fraud Attorney Near You

If you're looking for a trustworthy and experienced consumer fraud attorney near me, our legal team can help. With over 10 years of experience, more than 10,000 satisfied clients, and over $250 million in financial recoveries, we have the expertise and the necessary resources to handle any case related to consumer fraud. Our services are completely free, and we are dedicated to helping people resolve any issues with debt collectors, credit reporting agencies, and other entities that may engage in fraudulent practices. Contact us today to schedule a consultation and learn more about how we can assist you.
Arizona is not unique in this aspect since identity theft permeates all 50 states. Identity theft inflicts its tsunami-like damage by ruining credit scores, jeopardizing job prospects, increasing home insurance premiums, and tarnishing reputations.
According to the U.S. Department of Justice, one American falls victim to identity theft every two seconds. Are you a part of that statistic? If so, consider Consumer Attorneys as your light at the end of the tunnel!
Identity thieves utilize sophisticated malware and spyware to infiltrate electronic devices in order to steal personal information. Then, there are desperate dumpster divers and porch pirates who think nothing of confiscating others' mail in broad daylight. Still, the bottom line remains: As a victim of this crime, you need sophisticated legal expertise to help you move forward, efficiently, and effectively.
Arizona reaps the benefits of our expertise
Those in Arizona affected by identity theft want legal counsel with expertise who can right the wrongs they've endured. Impassioned, seasoned legal teams make a huge difference in the outcomes of identity theft cases.
Our identity theft lawyers have access to experts in technical fields, as well as resources the government and police may not utilize. To ensure no stone is left unturned and optimize the chances of recovering maximized compensation, you need Consumer Attorneys on your side.
Consumer Attorneys is a leading national consumer protection law firm. We have more than a decade of experience assisting clients scrambling to remedy identity theft damage. Not only do we represent those in Arizona with identity theft cases, but we also work with consumers against unprincipled debt collectors, shoddy background check businesses, and inept credit reporting agencies.
We are based in New York City but represent the interests of consumers nationwide in state and federal courts. Our efforts have secured more than $100 million in monetary recoveries for our clients. When identity theft is involved, we work to determine whether one or more third parties can be held liable for our client's losses. Even if an identity thief cannot be located, lending institutions, employers, health care facilities, creditors, and others can be held responsible.
From Miami to Chicago and New York City, our identity theft lawyers help consumers restore their good names, reputations, and credit standings.
Consumer Attorneys is featured in a variety of prominent media outlets including Super Lawyers, Consumer Reports, Bankrate, The New York Times, Daily News, Reuters, and Law Street. Super Lawyers has a long-standing reputation for excellence and includes only qualified lawyers who have been chosen from a pool of peer-reviewed and independently researched candidates. Consumer Attorneys' identity theft lawyer team remains Arizona's powerful legal ally!
Identity theft in Arizona covers the gamut
There are endless ways Arizona residents can become victimized due to identity theft:
Government Identity Theft Your Social Security number, passport, or driver's license was used locally or nationally to apply for government benefits like unemployment, disability, food stamps, etc. It's time to take legal action – give us a call!
Scam Identity Theft – You received an email, call, text, or social media message but weren't. You offered your personal information – call our identity theft lawyer team right now.
Financial Identity Theft – Someone has taken over your bank account or set up a new account in your name without your permission. Time is of the essence – give us a call now!
Data Breach Identity Theft – Your personal information was exposed in a data breach or other security incident. Our identity theft lawyers are here to help!
Medical Identity Theft – You received notification from your medical provider or insurance company that your medical services were used by someone other than you. This could include prescriptions and a variety of health care services. Your medical information is alive and well with someone else, which could prevent you from being authorized critical prescriptions.
Criminal Identity Theft – You received a court summons or were informed by law enforcement that there is a warrant for your arrest, yet you did nothing wrong. Imposters will provide stolen personal information to law enforcement during an investigation or a traffic violation. If the imposter is ordered to appear in court and doesn't show, an arrest warrant could be issued for the innocent person whose personal information was stolen.
Mortgage Identity Theft – Your home's title is in someone else's name even though you are living in the home. A criminal steals your identity via phishing scams, stolen tax returns, or bank records and forges your deed or title documents in an attempt to sell your home or borrow against it.
Once identity theft has been discovered, you need a team of identity theft lawyers that will work to recover your financial losses and remedy other damages you have suffered.
No out-of-pocket fees mean no worries
To help provide our Arizona clients with the easiest experience regarding their identity theft case, we do not charge any upfront or out-of-pocket fees. If we accept your case, there will be no fees unless we win!
Our team will put you in touch with an identity theft lawyer in Arizona near you who will assess your circumstances. Take advantage of a free case consultation, and we will advise you on your next step forward. Call us immediately.
Take action and call Consumer Attorneys now!
At Consumer Attorneys, every case is handled with priority and personalized attention. Our friends in Arizona can connect you with our legal team in various ways:
Call +1 877-615-1725 for immediate assistance and a free case review.
Fill out our brief Contact Us form or initiate a live chat.
Reach out to us at info@consumerattorneys.com with any questions.
Are you violated by creditors, debt collectors, or credit reporting agencies?
Call us, and we will restore your financial life back to normal.
Get in touch