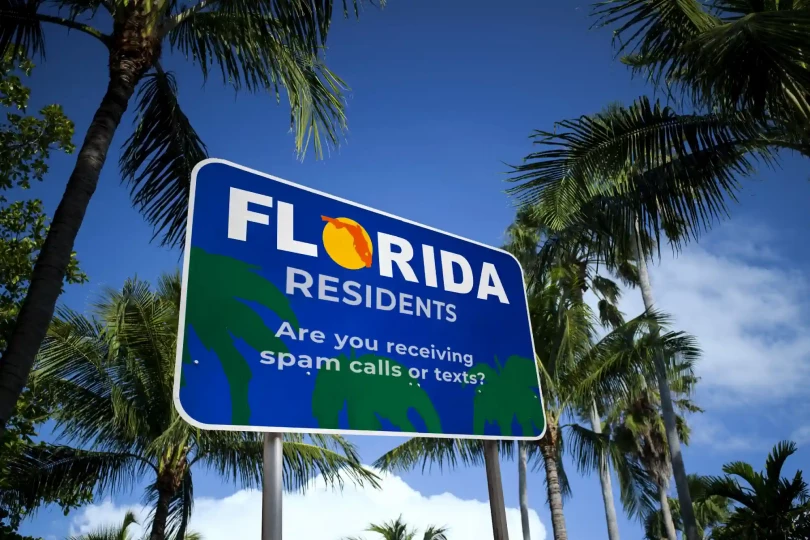 New laws in Florida are designed to protect you from harassment by telemarketers, attempting to replace federal laws recently weakened by the Supreme Court.
Written consent is required under the FTSA before you can receive promotional texts or calls from an automated system.
Florida Residents – Are You Receiving Spam Calls or Texts?
In July 2021, Florida enacted the Florida Telephone Solicitation Act (FTSA), which protects consumers from spam calls, texts, and voicemails. The language used in the FTSA prohibits "a telephone call, text message, or voicemail transmission to a consumer for the purpose of soliciting a sale of any consumer goods or services." This new law is a revamped version of an older statute. Although Florida had a law prohibiting phone solicitation since 1987, it recreated it in 2021, in response to a 2021 United States Supreme Court decision in a case called Facebook v. Duguid. That case severely restricted the reach of the federal law that protected consumers from spam calls, which is called the Telephone Consumer Protection Act (TCPA). Since the federal TCPA was no longer applicable in virtually all cases, Florida reintroduced a new version of its own law to make it accessible to consumers like you who are getting spam texts or phone calls. The FTSA mandates that Florida residents give their express consent, or opt-in, to any spam texts or calls. For the purposes of the FTSA, any phone number with a Florida area code is considered a Florida resident.
Prior Written Consent
Written consent is required under the FTSA before you can receive promotional texts or calls from an automated system. The written consent must be signed by the party receiving the calls or texts, include the phone number of the party authorizing this communication, and clearly authorize the company executing the texts and calls to do so. This can be done via text message or by signing a written agreement to purchase goods or services. Often, when you purchase something online, you are also giving your consent to be contacted by the company. If you keep getting spam texts despite never giving your consent, we will investigate the company's disclosures and examine whether they comply with the FTSA.
Recent Cases
One recent class action case was brought against a large company. The class representative was a Florida resident who was being bombarded with texts offering him to register for a health service. Despite repeatedly replying "STOP," the company continued sending him dozens of text messages over his continued objections. In another lawsuit, the consumer had received multiple texts from a company he had previously ordered supplies from, despite unsubscribing from their email list and replying "STOP" multiple times. This consumer also had put his number on a national "Do-Not-Call Registry" 6 years prior, but received the spam texts nonetheless.
Can I Stop Receiving Unwanted Spam Calls, Texts, or Voicemails?
One way to stop spam text messages is by suing the company that makes them. For the FTSA to apply, you must be a Florida resident. If your number is a Florida number, you are presumed to be a Florida resident. The caller needs to be a representative of the company and identify themselves as such. If you gave your consent for the company to reach out to you, their spam texts to you might not be a violation of the FTSA. But if you asked the representative to stop contacting you but they kept sending you texts, this may be a violation of the FTSA. Make sure to keep screenshots of unwanted texts or voicemails, and any communication you have with the company. Create a general timeline of the events – when did you receive the calls or texts? Did you ever give your consent? Have you asked the company to stop?
Can I Sue for Spam Calls, Texts, or Voicemails?
If everything applies, you may be able to prevail in an FTSA lawsuit. These spam calls will stop, and we will get you some money back. There are statutory damages of $500 outlined in the FTSA, and if you had any other provable damages, you will be compensated for those as well. If the court determines that the defendant willfully or knowingly violated the law, the judge may increase the amount of damages you get. Attorney fees will be paid by the defendant, so there will be no out-of-pocket costs for you. We have attorneys licensed in Florida and will be happy to discuss your case. Click here to contact us.