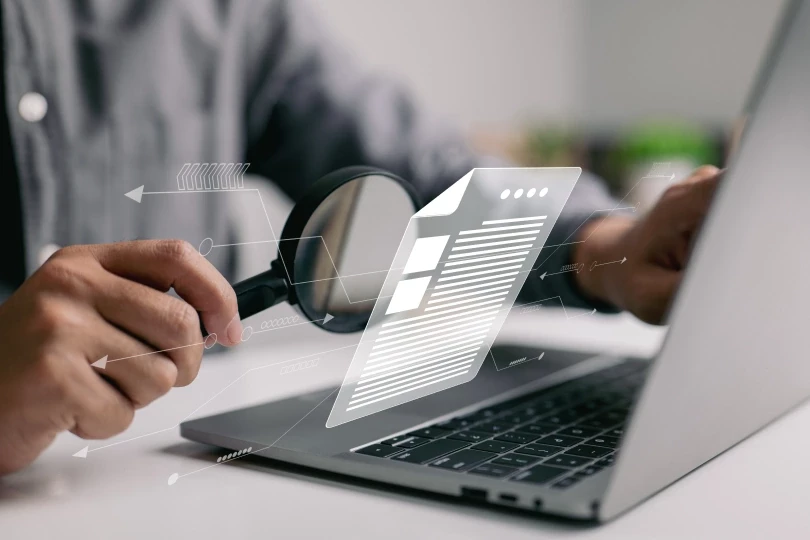 File a Checkr Lawsuit for Reporting Errors: Everything You Need to Know about What to Do Next.
Did errors in a Checkr background check report result in you getting rejected for a job, deactivated, or fired? These unjust data errors are surprisingly common and cause real-world harm. We explain the repercussions of these errors, how to dispute them, and how to file a lawsuit for compensation when they damage you financially and emotionally
If you were recently denied a new job or let go from a current job due to errors in a Checkr background check report, you likely have many questions about what this means, how to fix it, and whether you should file a lawsuit.
As a nationwide consumer protection law firm, we have helped thousands of people battle back from unjust credit errors that threatened to derail their lives, including reports prepared by Checkr. If you've been harmed by bad reporting or you're considering a lawsuit against Checkr, keep reading to learn everything you need to know about the company, the process of disputing errors in background check reports, the potential consequences of these errors, and how the law holds Checkr accountable, including allowing you to get free legal representation and compensation through a lawsuit.
What kind of company is Checkr, and what does it do?
The Fair Credit Reporting Act (FCRA) is federal legislation that protects consumers in various ways, including by regulating how consumer data is gathered, reviewed, and reported. Checkr is a company that operates in and profits from the consumer data industry. This means that when it "runs" a background check report on a consumer, it buys information from other companies and compiles it into a report, which is then sold to a different company (your employer or potential employer).
Under the FCRA, companies like Checkr are known as consumer reporting agencies (CRAs) because they create and sell the actual reports. The companies that sell Checkr the data it uses in its reports are called data furnishers because they furnish, or supply, the data that comprises them. The data furnishers are typically the companies you have a direct relationship with, such as your credit card company, banks, service providers (cell phone, cable, etc.), mortgage lenders, auto loan financers, property management companies, or similar companies. The data they furnish relates to your financial relationship with each company, such as debt or loan amounts, payment history, account status, etc.
There are also third-party companies that don't have a direct relationship with consumers but use algorithms to scan public records and sell this data to Checkr and other CRAs.
What is Checkr's Responsibility under the law?
The FCRA requires that Checkr's employment background check reports meet a legal standard of care in the processing of consumer data. Specifically, it must use "reasonable procedures to assure maximum possible accuracy" when collecting, reviewing, reporting, and investigating the data that goes into employment background checks. What Employment Background Screening Companies Need to Know About the Fair Credit Reporting Act | Federal Trade Commission Failure to meet this legal standard is grounds for a lawsuit.
Further, compliance with the FCRA requires that Checkr get your express permission before running the employment background check. If it reports errors in your background information, it has a duty to provide a dispute process and adequately and timely investigate the disputed information. If it fails to adequately correct the errors, you have the right to bring a lawsuit.
What is your employer's responsibility under the law?
When you apply for a job, your prospective employer must inform you if a pre-employment background check is required. Similarly, if you are hired for a job, your employer must inform you if there are any ongoing background checks throughout your tenure with the company. (Some employers run periodic updates to ensure that no new disqualifying information surfaced in an employee's background report since the time of hiring.)
If the information in your Checkr background check report is used to make an adverse decision about your job application or continued employment, the law requires your employer to tell you what specific information in the report disqualified you from consideration or resulted in your deactivation or firing. The law also allows you to file a Checkr lawsuit to uphold your rights, enforce Checkr's obligations, and get you compensation.
The Harm of False Information in Your Checkr Report
If you recently learned that your Checkr employment-related background check report contained inaccurate, misleading, or false information, contact a consumer protection attorney to discuss the next steps. Whether or not a lawsuit is ultimately the best course of action, an attorney will listen and offer legal advice and guidance.
What is Checkr screening for?
When Checkr runs a background check on you, it is screening for things like criminal background information, prior employment and education verification, driving records, and drug testing. It also offers international background checks for applicants and employees who live or have lived abroad.
How do errors harm you?
Errors in a Checkr background check report can significantly affect your financial and emotional well-being. For instance, if it erroneously reports that you were convicted of a violent felony or never attended the college listed on your application, this error can disqualify you as a candidate for the job. Or, if it erroneously reports that you were recently charged with a vehicular crime, you can be fired from a position that requires the operation of a motor vehicle.
When Checkr includes these types of errors, the impact can go well beyond the immediate job and have implications for other jobs as well. This is particularly true if you work in an industry where many employers rely on Checkr for background checks. For instance, in the ride-share industry, multiple ride-share platforms may utilize Checkr for pre-employment background checks. This means these errors could effectively prevent you from accessing meaningful work industry-wide.
Further, if you are refused a job or fired from a job due to errors in your background check report, the economic loss of the opportunity or position may impact your ability to pay bills, afford healthcare, and maintain good credit. For instance, if you are unjustly fired based on false information in a background report, you may fall behind on rent, car payments, credit card payments, insurance premiums, etc. This can destroy your credit profile or send you to collections, causing further financial and emotional harm.
Sometimes, a lawsuit is the best option
Because of the potential for sweeping harm, a lawsuit is sometimes necessary for error correction and compensation. See below for more detailed information about filing a lawsuit against Checkr.
Can I dispute false information in my background check report?
Yes, you absolutely can dispute false information in your background check report. It is important to make a distinction on this point, though.
The law requires that Checkr provide a process for disputing erroneous information in its background check reports. So, you have the right to pursue a dispute, have the errors investigated and corrected, receive compensation for any financial or emotional harm suffered, and even receive free legal services to fix the reporting mistakes.
However, you cannot dispute the employment decision that was made in reliance on the bad information. This is because your employer or potential employer acted within the law by relying on the accuracy of Checkr's report in making a hiring or firing decision. So, you cannot, for instance, sue your employer to force it to hire or re-hire you. However, your employer is legally liable if it reports the erroneous information to any other company, entity, or person.
So, you can dispute the false information in your background check report and file a lawsuit to make yourself whole again, but you cannot force an employer to give you the job that you had or wanted.
What do I need to know about filing a dispute with Checkr?
Checkr provides an online platform for filing a dispute and a mailing address for filing a dispute. We recommend filing a dispute using the mailing address and sending everything via certified mail. This method serves two purposes:
It preserves your right to file a lawsuit against Checkr. Frequently, the use of online dispute platforms requires you to agree to terms and conditions that are not in your best interest, including waiving your right to file a lawsuit. In our experience, waiving your right to file a lawsuit at the beginning of the dispute process is always a bad idea.

Leaving open the possibility of a lawsuit is a significant incentive to act quickly, effectively, and diligently in investigating and correcting the disputed information. Agreeing at the outset to waive your right to a lawsuit eliminates this incentive.

Plus, one of the situations consumers come up against in these disputes is that CRAs will conduct inadequate investigations in which they simply repeat the same wrongful information and say that it has been confirmed. This allows the CRA to technically fulfill its legal duty to investigate but does absolutely nothing to resolve the error. When this happens, a lawsuit is the only option for clearing your record and repairing the damage.
It keeps you in control of the record-keeping. Rather than relying on Checkr's programming to track and report dates, communications, documentation, etc., sending everything via certified mail means you have a USPS-verified time stamp and tracking number for everything sent. Be sure only to send copies of your necessary documentation, not originals.

Also, be sure to keep detailed lists of everything sent (including copies of correspondence and documents) and every point of contact between you, Checkr, and your employer during this time (such as dates and times of phone calls). Precise information can help establish timelines and serve as contemporaneous evidence as a lawsuit takes shape.
Can I file a lawsuit against Checkr if my background report includes errors?
Yes, under the FCRA, you have the right to file a Checkr, Inc. lawsuit. Certain factors impact the nature of the lawsuit.
If Checkr includes inaccurate, misleading, or false information about you in a background check and it leads to financial and emotional harm, you can file a Checkr lawsuit to seek remediation of the errors and compensation to make you whole again. In other words, if the wrong data results in your losing a job, not being able to get another job, missing bill payments, and living in a highly stress-filled state for an extended time, a lawsuit can seek money to account for the financial and emotional damages you sustained. Sometimes, litigation is the only way to get Checkr to uphold its legal obligations.
If Checkr promptly responds to your dispute, corrects the information, your employer agrees to hire you (or re-hire you), the entire matter is resolved within a week, and you haven't sustained any meaningful financial or emotional harm, then you will likely not have legal grounds to support a lawsuit. However, there is an exception for the reporting of certain errors, such as mistakenly reporting someone as deceased. If this type of error shows up in your background check, you have grounds to bring a lawsuit regardless of the extent of the harm you suffer.
In addition, for certain repetitive errors that impact an entire class (or group) of people, a Checkr class action lawsuit is possible. Checkr was previously sued in a class action lawsuit and reached a settlement of the claims for approximately 4.5 million dollars. Though there was a settlement agreement in that lawsuit, it does not preclude Checkr from being sued by other groups of plaintiffs in the future if it exhibits a pattern of behavior that satisfies the criteria for another class-action lawsuit. A court must certify a class-action lawsuit, though, so it is not simply a matter of deciding that you will sue as a group and filing a lawsuit.
Benefits of Professional Legal Support at Consumer Attorneys
If you have been adversely impacted by hiring or firing decisions based on inaccurate, misleading, or false information in a Checkr background check report, there are many benefits to working with one of the lawyers at Consumer Attorneys, including having the option to file a lawsuit against to uphold your rights.
Consumer Attorneys is a nationwide consumer protection law firm with over seventy-five years of combined experience protecting consumers like you through lawsuits and advocacy. We have helped thousands of clients recover from crushing data errors that shattered them financially and emotionally. With a team of lawyers from coast to coast, we're right where you need us to be.
Our skilled and experienced attorneys have led the charge on these legal battles so often that we know all the tactics used to stall, delay, and evade responsibility. We know that investigations into disputed information are frequently delayed, inadequate, or wrong. This is why we offer legal guidance and advice and can file a lawsuit on your behalf.
If Checkr has wreaked havoc in your life with wrongful data, you can trust us to take it from here.
How Much Does it Cost?
You pay nothing out of pocket to file a lawsuit against Checkr for reporting erroneous and harmful data.
First, at Consumer Attorneys, we know you don't know if you need us until you talk to us. So, we don't charge anything for our initial consultation. In other words, it costs you zero dollars to speak with a knowledgeable consumer attorney at a nationwide law firm to determine if you have grounds for a lawsuit.
Second, if we decide to take your case and file a lawsuit, it's because we believe we can win. And, under the FCRA, if we win, Checker has to pay for all the legal costs and fees associated with bringing the lawsuit. The law recognizes that it would be impossible for most people to take on a giant like Checkr and afford the legal fees of a lawsuit. So the law makes Checkr pay for its reporting errors, not you.
If we don't win the lawsuit, we don't get paid. It's as simple as that.
Beware Credit Repair Companies
If you haven't already, you will eventually come across companies that market themselves as easy credit repair agencies. Frequently, this means that you guarantee them an amount of money upfront, and they don't guarantee you anything, not even a successful resolution to the reporting of false information.
These companies flood the web with advertising because there are so many consumer reporting errors that they see it as big business. But what they don't tell you is that working with a consumer protection attorney instead of them means:
No out-of-pocket cost to you. Ever.
Access to extensive legal training, knowledge, and experience.
Working with a professional who is bound by legal and ethical standards of excellence.
Being able to sue Checkr for resolution and compensation.
We're not just someone else looking to cash in on your bad luck. We're the people that the FCRA empowered to help you by making the wrongdoers pay our costs and fees to sue them, so that you pay nothing out of pocket when we offer legal guidance and file a lawsuit to protect your rights.
Ask for Our Help Now
With no out-of-pocket cost to you, there is nothing to lose in discussing your Checkr reporting error with one of our skilled consumer protection lawyers.
There are several ways to reach us: call +1 877-615-1725, email info@consumerattorneys.com, fill out the online intake form, or use the virtual chat option to speak with us today.
From coast to coast, we're right where you need us to be.
Frequently Asked Questions
What does Checkr dispute status mean?

Checkr uses a status system to easily indicate which phase of the background check process your report is in. There are nine phases of the process: Invitation Sent, Pending, Complete, Clear, Consider, Dispute, Suspended, Canceled, and Invitation Expired. The Checkr website explains the meaning of each status. Once you file disputes (preferably through certified mail- see above for details on why), your status will indicate "dispute" until there's a resolution.

How to dispute Checkr?

(1) Contact a consumer protection attorney to discuss legal considerations. (2) File a dispute via certified mail (see above for details on why). (3) Provide documentation in support of your dispute via certified mail. (4) Check your credit report from each of the credit bureaus (Experian, Equifax, and TransUnion) to ensure that erroneous information doesn't also appear on any of them. The law permits you to get a free copy of each report once per year. (5) If Checkr informs you that its investigation into your dispute is complete and has confirmed that its report did not contain errors, contact a consumer protection attorney to file a lawsuit.

How accurate is Checkr?

Most of the background check reports performed by Checkr return and report accurate results. However, because of the number of pre-employment and employment background check reports that Checkr compiles annually, even a small percentage of errors adds up to thousands of reports with inaccurate, misleading, or false information. Unfortunately, this also means thousands of people miss out on job opportunities annually or get unjustly fired because of reporting mistakes and shoddy investigations. It is a surprisingly common problem and frequently results in a lawsuit.

How to clear a background check on Checkr?

"Clear" is a Checkr status indicating that an individual's report is complete and there are no issues (based on the search parameters established by the employer or potential employer). If your report status does not come back as "clear" but indicates a problem, the only way to get a "clear" status is to evaluate the report and file a formal dispute to correct any errors. If your Checkr report does not contain any errors and accurately reflects problematic events in your background, you can not "clear" it. The only way to remove data from your report is to demonstrate with evidence that it contains inaccurate, misleading, or false information. And if even that fails, a lawsuit is your best option.