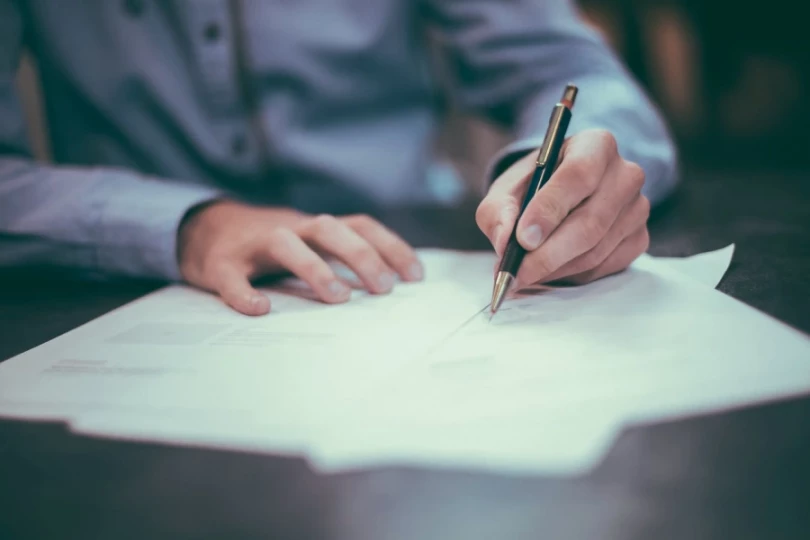 How to Write a Dispute Letter to Credit Agencies
It can be daunting to get started on writing a dispute letter, so use this guide as a resource as you work toward having your credit report corrected.
In 2022, consumers have filed more than 432,490 complaints against credit bureaus for errors on their reports. If you're here, you're probably one of them — in fact, according to a study conducted by the Federal Trade Commission, one in five consumers has an error on their credit report.
That's a lot of consumer reporting mistakes, and if you want to get your report corrected, the best way is to first send a written letter via snail mail.
Writing and sending a letter via mail to correct consumer reporting mistakes is just one more inconvenience for consumers. That's why we've put together this helpful guide and dispute letter template to help you get started before deciding if you need more help.
Get Expert Help to Dispute Experian Credit Report Errors

Discovering inaccuracies on your credit report can be both unpleasant and confusing, but taking action to dispute Experian errors is essential for safeguarding your financial reputation. Our skilled legal professionals are here to guide you through every step of the dispute process, ensuring the best chance at a favorable resolution. Reach out to our law firm today for dedicated assistance in resolving your credit report issues.
What is a dispute letter?
When you want to remove incorrect information from a credit report, the agency will not launch an investigation until you notify them of their mistake. The dispute letter identifies the information in your report that you believe is incorrect and initiates the agency's investigation into your claim.
There are a few sections that should go in your letter, such as a section to outline the disputed information as well as evidence to support your claim. Your dispute letter should also request action from the consumer reporting agency to correct the mistakes.
Why can't I file a dispute online?
We know it's inconvenient to have to take the extra steps of composing and mailing a letter to correct mistakes that weren't yours in the first place. While it is possible to file disputes by phone and online, we recommend mailing a letter because it can act as documentation should you need to escalate your case to a lawsuit.
Sending a dispute letter via certified mail guarantees 1) You have physical proof of when you sent your dispute letter. 2) Evidence to support your case in court if your claim is not properly addressed.
What do I need to write a dispute letter?
First, you'll need to know the few different kinds of dispute letters and pick the one that best fits your problem.
General dispute: A general dispute letter will fit the needs of most consumers filing a claim, and it is the first (and hopefully last) you'll need to send. It's a simple letter that does not need to reference a specific section of the FCRA like other kinds of dispute letters. All you'll need to do is list the mistake in your report, provide evidence to prove your case, and request a correction.
609 credit report dispute: This dispute letter, which references Section 609 of the FCRA, is what you will send if you want a credit bureau to verify information. If that information can't be verified, the bureau needs to remove it from your report.
611 credit dispute letter: This is how you'll ask the credit bureau to show how they verified information you are disputing. Section 611 is invoked when a credit bureau responds to your dispute and says it has verified the information.
Once you identify what kind of letter you need to write, you'll need:
Your name, address, phone, and other identifying information
The information for the credit bureaus' you want to contact
Your account numbers with the bureaus
Dates of disputed account activity
Explanation of your dispute and source information
Information you want to dispute
Any evidence you want to include, like documents, identifying paperwork, or bills
The FTC's general dispute letter template can help guide you in the dispute letter composition process.
[Date]
[Your Name]
[Your Address][Your City, State, Zip Code]
[Business Name]
[Street Address][City, State, Zip Code]
Subject: Disputing Information in Credit Report
I am writing to dispute the following information that your company supplied to [give the name of the credit bureau whose report has incorrect information]. I have circled the items I dispute on the attached copy of my credit report(s).
This item [for instance: retailer account at ABC Department Store and the account number] is inaccurate [or incomplete] because [describe in detail what is inaccurate or incomplete and why] I am requesting that [business name] have the item removed [or request another specific change to correct the information.]
[Add list and description of other disputed items, if that applies.]
Enclosed are copies of [my credit report and any other documents enclosed with a short description, for instance, your record of payments made] supporting my request. Please reinvestigate this matter and contact the national credit bureaus to have them delete [or correct] the disputed item(s) as soon as possible.
Sincerely,
[Your name]
Enclosures: [List what you are enclosing]
What if my letters don't work?
The FCRA entitles you to an accurate report, so when you've gone as far as you can go in the dispute process and still can't get your information corrected, you may be eligible for a lawsuit.
The fallout from inaccurate information in a credit report can cost you time, money, job opportunities, and your reputation. You don't need to fight credit bureaus alone. Let Consumer Attorneys know if we can help, we offer a free consultation to get you started.