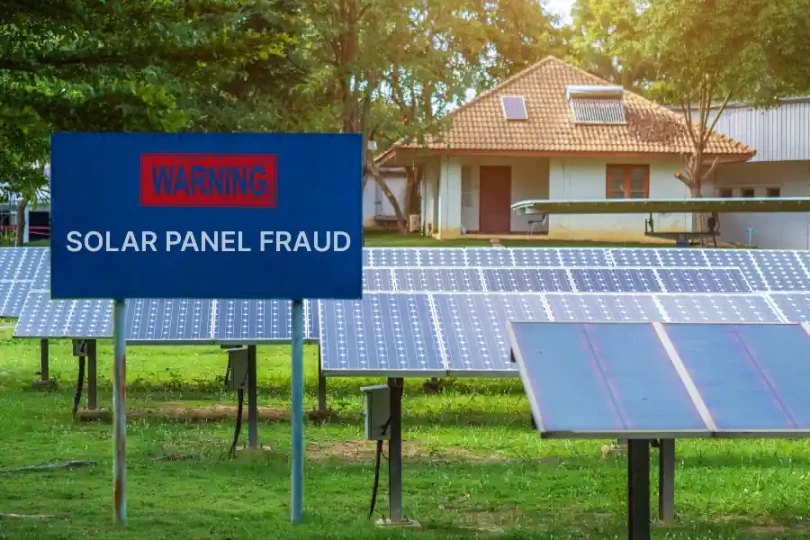 A relative newcomer on the judicial landscape, solar fraud cases are becoming more and more common.
some solar companies have engaged in deceptive practices over the years, and these practices can also affect your credit.
Solar Panel Fraud and Credit Reporting
In recent years, as awareness of environmental issues continues to grow, renewable energy sources have become more common in our everyday lives. With the rising costs of electricity, and rising costs in general, the idea of installing solar panels and saving money on electricity bills seems increasingly attractive to consumers. As solar panel systems become more affordable, many private homes and residential buildings are turning to solar energy, and solar panels are popping up on more and more rooftops. But some solar companies have engaged in deceptive practices over the years, and these practices can also affect your credit. This article will explain how to avoid solar panel scams and how they relate to credit reporting.
Sue Experian in Small Claims Court: Your Legal Options Explained

If you've had issues with your credit report from Experian, you may be wondering what your options are for seeking recourse. One option is to sue Experian in small claims court, which can be a cost-effective and efficient way to resolve disputes. However, it's important to understand the process and legal requirements before pursuing this route. Our legal team can help guide you through the process and advocate for your rights. Contact us today to discuss your case and explore your options.
How Solar Panel Scams Work
Many solar scams, especially in suburban areas, start off with an unsolicited knock on an unsuspecting resident's door. Some salespeople will contact you via phone or email as well. Salespeople are trained in communication techniques that create rapport and quell any suspicions you may have. They have ready-made answers to your concerns and present the benefits as something that makes total financial sense, with added pressure. The sales pitch presents many benefits – some real and some exaggerated. Here are some common misrepresentations the solar companies' salespeople make:
Inflated long term savings, or offsetting of expenses against future electricity bills
The solar panels will be completely free for you
Tax credit promises – when, if the solar panels are leased to you, it is the solar company who will receive these tax benefits
Immediate sign-on bonuses, such as a $1000 check
No mention of a long-term Power Purchase Agreement (PPA) – a contract that binds you to the solar company for decades in exchange for free installation and equipment
No paper documentation of the agreement, everything done electronically
This is not the type of scam in which someone is pretending to be a representative of a solar company when they are not one, but an actual solar company using deceptive means to get as many signed long-term contracts as possible – contracts that you will have to pay tens of thousands of dollars to get out of. They often do so by obtaining electronic signatures without presenting any paperwork.
In many of the consumer lawsuits filed in recent years, no such contract was mentioned or provided to the consumer for review. What's worse, some of the companies that were sued provided fake email addresses for consumers who never gave out their email addresses, and even forged signatures on these contracts or loan agreements. Many salespeople targeted elderly consumers who did not even have an email address to begin with, and who did not understand the extent of the commitment they were signed up for. One case involved an 83-year-old woman who signed a commitment for 25 years. In other cases, the companies provided a loan in exchange for the installation of the solar panels and equipment, a fact that became known to the consumers only much later. Some of the recent complaints have been class action lawsuits, representing the thousands of individuals affected by these deceptive and fraudulent practices.
Credit Report Pull
These fraudulent business practices involve signing a contract or loan documents, and so the companies engaging in this fraud need to obtain the individual's credit report to know whether that person is even an eligible consumer. The Fair Credit Reporting Act (FCRA) contains a section that mandates that credit reporting agencies provide consumer reports to third parties only for permissible purposes, such as credit transactions. If a credit transaction involves fraud, of course, then pulling a credit report to facilitate that transaction is not a permissible purpose and is prohibited by the FCRA.
How To Dispute Credit Report Errors
Since this scam results in an unauthorized pull of the consumer's credit report, the outcome would be an unauthorized hard inquiry on your credit report. So, the question would be how to remove hard inquiries from your credit report.
As a first step, you should try to resolve the issue with the specific credit reporting agency that is reporting this unauthorized inquiry (Equifax, Experian, or TransUnion). Eventually, after taking the proper steps outlined below, your next step might be litigation to compel the credit reporting bureau to correct your report. As is the case with any other type of inaccurate information on your credit report, the first step in correcting your report is to dispute the inaccurate information.
Any credit dispute should be sent to the credit reporting bureau in writing. Do not search for the credit bureau's dispute phone number to submit a dispute over the phone. In case you need this information in a future lawsuit, it is best to have the dispute in writing. The same goes for online disputes as well, as they are also more difficult to prove. We suggest sending a letter via snail mail, keeping a copy of the letter for your records, and sending it via certified mail or with a signed delivery receipt. In terms of the content, keep it clear and concise. Do not go into too many details of the scam you experienced, as that will be fleshed out during the litigation process, if there is one. Give the credit reporting agency enough details to identify your file and the unauthorized credit inquiry. After the credit bureau receives your credit dispute letter, they have about 30 days to investigate the issue and correct it. If they do so, congrats. Your credit report is now corrected. If they do not remove the unauthorized inquiry – you might be able to sue the credit bureau that is erroneously reporting the hard inquiry as part of an FCRA lawsuit, in addition to a state law claim for fraud, misrepresentation, and deceptive business practices. Feel free to contact us with any questions – we are a phone call away.