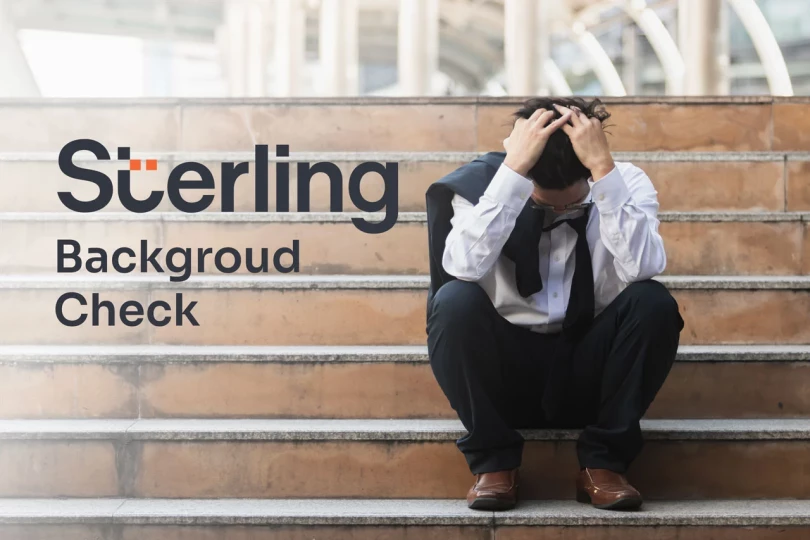 If Mistakes in a Sterling Infosystems Background Check Unfairly Tanked Your Employment Opportunity, You Need Our Help!
Being rejected from a job you applied for is hard. But being rejected from a job you want due to errors in your Sterling Infosystems pre-employment background check is brutal! When you suffer an unfair, unjust rejection due to Sterling's mistakes, learn what to do next. We explain how to empower yourself, restore your reputation, and fight back!
There is nothing easy about applying for jobs. Along with a commitment of time, energy, and attention, it requires the vulnerability of attempting to encapsulate the best of yourself into a few small pages, which you submit for the judgment of strangers. Rejection, though never fun, is a normal part of the process, as is the development of resilience and persistence.
But the process is even more brutal if you finally get selected as a top contender for a job you want, only to learn that you're being cut from consideration because of something discovered in your pre-employment background check. And the worst scenario of all is the discovery that you were rejected based on inaccurate, misleading, or false information!
If errors in your Steling background check cost you a job, you are not alone. These errors impact job applications every single day nationwide. As consumer protection lawyers who have helped thousands of clients recover their lives, reputations, and employment prospects, we've seen, heard, and handled it all.
Keep reading to learn everything you need to know about the company, the Sterling Infosystems background check, how errors corrupt background screenings, how to fix these errors, if and when a lawsuit is advisable, and why an experienced lawyer is your best asset to protect your rights and restore your life. Empower yourself with knowledge and fight back!
About the Sterling Company
Sterling Infosystems is a global company with over 50,000 clients worldwide. It provides pre-employment background checks and post-employment monitoring. This means that companies contract with Sterling to (1) run background checks on applicants who have advanced to the final stages of the hiring process or (2) run ongoing background checks, drug screens, and other monitoring on employees throughout the duration of their career with the company. The latter is frequently used by companies that have a need to maintain continuous security clearances or have ongoing safety considerations. For instance, an airline might need to continuously monitor pilots for reportable drug and safety violations.
The products offered through Sterling are highly customizable to the needs of the individual client, so not all background checks are the same or include the same categories of data.
How Does Sterling Conduct Background Checks?
The Sterling Infosystems background check process uses an online platform to gather information directly from the applicant or employee. Under the Fair Credit Reporting Act (FCRA), no background or credit check is permitted without the express consent of the consumer. This means that you will have to affirmatively agree to submit yourself to the background check.
Sterling will then supply you with login or identity credentials to grant you access to the specific background screening that your prospective employer selected for the position in question. You will access the platform, provide truthful responses to all of the inquiries, and provide any required documentation.
How Long Does a Sterling Background Check Take?
One of the top concerns for anyone who has to submit to a background screening is finding out what the standard Sterling background check time is.
The company states that Sterling background check results do not necessarily have the fastest turnaround times. Rather, they emphasize their attention to thoroughness. However, the Sterling InfoSystems background check time ultimately depends on which categories are being checked and how extensive the required search is. Sterling states that education and employment verification has an average turnaround time of three to five days but that criminal and other background checks can take longer.
In general, know that it can take several days to several weeks for a background check to complete, depending on the categories of information, the extent of the factors impacting the individual candidate or employee (such as an extensive employment history), and other factors.
Industry-wide, background check services can also be delayed due to certain data processing issues, such as distinguishing between two individuals with the same or similar names.
What Information Does Sterling Include in a Background Check?
Sterling Infosystems background check data includes a comprehensive, customizable set of categories from which each employer can choose specific subsets of information for inclusion.
General Screening: civil, criminal, and motor vehicle records (including sex offender registries); global checks (such as terrorist watchlists and similar); sanctions, risk, and compliance screenings; social media screenings; and social security number tracing.
Drug & Health Screening: general and specific health screenings, such as Covid-19 testing and vaccine information.
Financial & Business: credit profile (including credit scores, liens, judgments, and bankruptcies), executive investigations, and due diligence reviews.
Identity Verification Screening: Fingerprint and other verification (such as SSN tracing).
Monitoring: Medical License Monitoring and "Sterling Monitoring". The latter is a proprietary product providing "ease" of ongoing monitoring across a variety of categories.
Onboarding: Sterling offers immigration and employment eligibility verifications through Form I-9 and E-Verify.
Verifications: this category includes other verifications that are not specifically enumerated elsewhere.
In addition, not only can the employer opt for certain categories of information, but state laws may also impact which categories are available for inclusion. For instance, states may have differing look-back periods for the inclusion of certain data or prohibit the reporting of certain data altogether.
So, theoretically, two Sterling reports with identical categories could conceivably include different information about the same person, depending on which state laws govern the data collection and reporting process.
Sterling Criminal Background Check
The Sterling criminal background check professes to use a system that is predominantly (approximately 90%) tech-driven, relying on search algorithms, data processing software, and proprietary technology. The remaining 10% of the process relies on a human review component.
The criminal history screening draws on federal, state, county, and (if relevant) international criminal records to provide a comprehensive candidate criminal profile.
Sterling Pre-Employment Background Check
The Sterling employment background check is selectively determined based on the categories an employer or prospective employer chooses to screen. It may include such things as a credit profile, criminal profile, employment and education verification, identity verification, social media profile, and social security number trace, among others.
What Are Your Rights Regarding a Background Check?
Whether you are asked to submit to a pre-employment Sterling Infosystems background check or ongoing monitoring as an employee, you have a host of legal rights.
The most significant law in the consumer data industry is the Fair Credit Reporting Act (FCRA). This massively important piece of legislation regulates the collection, processing, and reporting of the data that goes into generating reports for such things as credit, employment background checks, rental and housing screenings, and numerous others. In addition, other federal and state laws also impact your rights when it comes to your data.
This interplay of laws is one of the reasons that if you find errors in your Sterling background check results, navigating this legal landscape with the help of an experienced lawyer is incredibly helpful!
Sterling Infosystems is a Consumer Reporting Agency
Under the FCRA, companies like Sterling are known as Consumer Reporting Agencies (CRA) because they generate the actual reports. They do this by buying data about consumers from other companies. The companies that sell the data are called data furnishers because they supply or furnish the data. Data furnishers are the companies that you have direct relationships with, like credit card companies, service providers, banks and lenders, mortgage and auto financers, and others.
CRAs like Sterling also buy data from third-party companies (ones you don't have a direct relationship with). These third-party companies scan federal, state, and county databases of all kinds to gather data and sell it to CRAs and others.
Your Rights Under the FCRA
If you find errors in your Sterling Infosystems background screening, know that you have basic rights, which include:
Consent. Authorization must be obtained prior to running any Sterling Infosystems background check. This means that you must provide your express and informed consent. If you are subject to a screening without authorization, Sterling is liable under the law.
Accuracy. Sterling, and any other CRA, is expected to only include accurate information about you. This includes not just a prohibition against blatantly false information but also against any softly inaccurate or generally misleading information. It can also include a prohibition against reporting factually accurate information that should not have been reported due to state law restrictions (such as time-barred information).
Review. You have the right to receive and review a copy of your screening report. Frequently, during the screening process, you are offered the choice to select receipt of a copy upon completion. If not, you have the right to request and receive one after the fact.
Informed Rejection. When information in your Sterling Infosystems background check results is used to make an adverse decision against you (i.e., to reject or fire you), you have the right to know which specific information was relied on in making that decision.
Free Credit Review. Though it might not seem relevant, you have a right to review your credit report from each of the three credit bureaus (Equifax, Experian, and TransUnion) annually. We recommend reviewing each credit report as soon as you discover an error in your Sterling employment background check. Sometimes, the data errors are consistent across reports, and knowing the extent of the problem is helpful in repairing it.
Dispute. CRAs like Sterling must provide a process for you to dispute Sterling background check errors. (See below for more details.)
File a lawsuit. If any of your rights are violated during the reporting process (consent, accuracy, etc.), you are empowered under the law to file a Sterling Infosystems lawsuit. Through a lawsuit, you are entitled to seek correction of all erroneous information and compensation for any financial, emotional, or other harm you sustained as a result.
Covered legal fees. The FCRA gives you the right to pursue a lawsuit against Sterling for errors in your pre-employment screening or post-employment monitoring without having to take on the burden of the legal costs and expenses to do so. This means that if you pursue a lawsuit against Sterling, your lawyer's services are paid for by Sterling when you win.

At Consumer Attorneys, we offer 100% free legal consultations, so if you call to speak with us, you won't pay anything out-of-pocket to discuss your rejection or firing due to background reporting errors. We'll help you figure out if you need a lawyer and what to do next.
What are Sterling's obligations when it comes to a background check?
You have rights under the FCRA, but Sterling also has legal obligations.
Accuracy. By law, Sterling has to use "reasonable procedures to assure maximum possible accuracy" in its background check reports. This is the corollary to your right to accurate information, and it doesn't just mean that the reports have to be accurate but that the data-gathering procedures and processes have to produce accurate information.
Dispute. CRAs like Sterling must provide a mechanism and opportunity to dispute errors in your employment background check.
Investigate. Once you begin the dispute process (following the procedures required), Sterling is legally obligated to investigate the accuracy of the data in question. In addition, there are statutory deadlines that control how quickly Sterling must investigate and respond to you.
Error Correction. Any inaccurate, misleading, false, or legally non-reportable information in your Sterling Infosystems background check results must be corrected.
Compensation. If you win a lawsuit against Sterling for any harm that falls under the purview of the FCRA (such as reporting errors, failure to secure consent, failure to adequately investigate or correct mistakes, etc.), it must compensate you for the harm you sustained.
Cover Legal Costs and Fees. If you win a lawsuit against Sterling for any harm that falls under the purview of the FCRA, it must pay for the costs and fees of your legal service.
Which Companies Use Sterling for Background Checks?
As a global company, Sterling's background check and employment screening products are used by for-profit and non-profit companies worldwide. Boasting over 50,000 clients, Sterling's products are used by giants like Lego, Kimberly-Clark, Siemens, ManpowerGroup, Grainger, HunterDouglas, Texas A&M, Amnesty International, Crocs, and many, many more.
In fact, the sheer scope of Sterling's business means that errors in your Sterling Infosystems, Inc. background check can have broad implications. Specifically, if you are rejected from a job due to errors in a background screening or if you are fired due to errors in an ongoing monitoring process, the chances of bumping up against a similar outcome with another employer are high.
Sterling Infosystems background checks are everywhere, and this can be particularly true if they dominate the screening field within a certain industry…like the one you work in!
What Types of Background Checks Are They Using Sterling For?
Sterling services cover background screenings across the full spectrum of employment considerations. While the categories are customized by the companies that use their services, in general, Sterling covers seven areas, with nuanced categories within each: General Screening, Drug & Health Screening, Financial & Business Screening, Identity Verification, Monitoring, Onboarding, and all other verifications.
Can Errors Occur in Background Checks from Sterling?
Yes, a Sterling background check screening can ultimately include errors about a job applicant or current employee.
As consumer protection lawyers with seventy-five years of combined experience, we have helped thousands of clients recover from errors in Sterling background checks and those of other CRAs.
What Causes Errors in Background Checks?
The vast majority of the buying, selling, sorting, and reporting of consumer data is done using algorithms. (As discussed above, even Sterling states that 90% of its data is amassed and sorted using technology.) From CRAs to data furnishers to third-party purveyors, algorithms are king when it comes to the data game.
These errors are caused by a combination of things spanning everything from Sterling background check process concerns to criminal activity impacting your data.
Scope of data. The wide assortment of data streams pulling from records nationwide (and sometimes worldwide) is problematic. Relying almost exclusively on algorithms to gather, sort, select, and determine the relevancy of data to a particular person is speedy but prone to errors.
Lack of human review. The lack of sufficient human engagement, review, and analysis prior to reporting data is problematic. Algorithms accomplish an enormous task by being about to quickly and easily sweep huge data streams for information on a given candidate. However, even relatively minor superficial similarities between consumers can trigger data mishaps (e.g., the same or similar name).
Input Errors. These errors occur when information is input into a database. Mistakes include incorrect dates, birthdates, misspellings, etc.
Mixed or Co-Mingled Files. These errors occur when information from unaffiliated individuals is co-mingled into a single report. Cost-saving incentives drive CRAs like Sterling to rely almost exclusively on technology-based relevancy assessments despite the fact that many data similarities could quickly and easily be resolved with human oversight and review.
Identity Theft. Identity theft (unauthorized access to another's info) and identity fraud (unauthorized use of another's info) can wreak havoc on a consumer profile, including generating an abundance of erroneous data.
Failure to Update. Another technology-based problem stems from data systems failing to update regularly. For instance, when certain convictions are expunged (erased) after a period of time, municipal systems update their records to reflect this, but if Sterling fails to update its system regularly, these updates aren't picked up in the data collection process.
Main Types of Errors
The main types of errors that you'll encounter with Sterling background check mistakes is:
Transposition of digits in a Social Security Number.
Wrong or incomplete information in original documents.
Incorrect criminal records.
Outdated information (e.g., expunged convictions that were not updated).
Mistaken identity resulting in unaffiliated criminal records being associated with the wrong person.
Information from Identity theft and fraud scenarios that are reported as accurate.
Information from someone else in your report (including criminal, credit, financial, employment, housing, etc.).
How Often Do Errors Occur in Background Checks from Sterling?
Though most consumer reports, including Sterling background check reports, contain accurate information, errors are frequent and persistent. In fact, a recent review found that one-third of consumers have discovered errors in credit reports. A third of Americans found errors on their credit reports. Here's how to fix those mistakes. Remember that credit reports are only one small piece of the consumer data industry and are included in many background check screenings.
This one-third estimate is likely consistent across all reporting categories, including criminal history, educational and employment verifications, etc. And it is certainly consistent with what we experience through our clients at Consumer Attorneys.
What are the Consequences of Having Errors in Your Background Check Report?
Because of the nature of the products and services Sterling offers, Sterling background check mistakes result in unjust and unfair hiring and firing decisions.
In addition, because of the enormous amount of companies using products from Sterling, errors in your background screening can disrupt your ability to get or keep employment broadly, not just with respect to a single opportunity.
Ultimately, this can lead to prolonged and distressing financial and emotional damages.
You Can Contact Sterling to Correct Errors in A Background Report
The process of contacting Sterling to correct errors in your background check report is called the dispute process. To dispute Sterling background check errors, you must file a formal dispute of the erroneous information in your report.
Sterling provides a phone number and an email address for filing a dispute. If you file a dispute via telephone, we recommend taking careful notes about every interaction, including the name of the person you speak with, the call's date and time, and a conversation summary. If any documentation is requested from you, we recommend sending it via certified mail.
You are notified of the dispute resolution via email.
What to do if You Do Not Receive Answers to Your Questions on the Background Report
Sterling correctly states that it has 30 days under the FCRA in which to respond to your dispute. (There are some exceptions to this that extend the time, but for the most part, this is true.) If 30 days have passed and you haven't received a response from Sterling, you should contact Consumer Attorneys to discuss the next steps.
You Can Sue Sterling if Your Report Contains Errors
As discussed above, you have the right to file a Sterling Infosystems lawsuit if errors are reported in your background screening and you have sustained financial or emotional harm as a result.
The reporting of certain errors (such as accidentally reporting a person as deceased) can warrant a lawsuit regardless of whether you've been harmed as a result. But for the most part, you need to have suffered damages from your failed Sterling background check before pursuing compensation. For instance, if your Sterling employment background check identifies you as having lived at an address that you never lived at, you have the right to dispute this error and have it corrected, but if it doesn't cause you actual harm (such as job rejection or firing), then you likely don't have grounds for a lawsuit.
Who Can Help You Fix Errors in a Sterling Background Check Report?
Consumer protection lawyers, such as those at Consumer Attorneys, are your best asset for protecting your rights, enforcing Sterling's obligations, and getting yourself back to whole. We can help you fix errors in your Sterling background check report and help you get compensation for any financial, emotional, or reputational harm you suffered as a result.
Lawsuits Against Sterling
Each year, consumers injured by reporting errors in failed Sterling background checks are forced to file lawsuits against Sterling in order to correct the record, repair the damage, and get compensation for the harm suffered.
At Consumer Attorneys, we've helped thousands of clients get their lives back to good when reckless data handling by Sterling and other CRAs threatens their financial and emotional well-being.
Consumer Attorneys Case Highlight
Perhaps not surprisingly, many of the cases dealing with Sterling background check mistakes deal with inaccurate, misleading, and false criminal history information. This is likely due to the fact that employers place a significant emphasis on the nature of an applicant or employee's alleged criminal offenses when making hiring and firing decisions. Because this information is frequently determinative, it ends up being at the root of many legal battles around background check reporting errors.
The two cases highlighted below involve fully false criminal history information (the data belongs to someone else) and misleading and unreportable criminal history information (the data is inaccurate and statutorily non-reportable).
False Criminal Record
When our client, Ahmad, applied for a much-needed and well-paying job, he was thrilled to quickly progress through the hiring process, demonstrating his capabilities and receiving a formal offer. However, prior to his intended start date, he was informed that the offer was being rescinded due to information reported in his Sterling background check. In total shock, he attempted to contact the placement agency, the prospective employer, and Sterling on numerous occasions and was met with a pattern of evasive and unhelpful engagement.
Ultimately, Ahmad learned that his Sterling background report indicated that he had been convicted of "Terroristic Threats," which was not only completely false but also clearly so based on various other facts (such as his actual age at the time of the alleged conviction). Ahmad was subsequently informed that the placement agency no longer wanted to work with him on future job prospects.
Sterling engaged with Ahmad throughout this ordeal with a pattern that violated multiple elements of his rights under the FCRA. Ahmad eventually learned that the conviction reported by Sterling belonged to another man with a similar (but different!) name. We fought for Ahmad, arguing that Sterling's engagement with him, data gathering and reviewing protocols, and reporting efforts violated his rights under the FCRA, and we secured a substantial settlement on his behalf!
Inaccurate Criminal Record
When our client, Wynisha, successfully applied and interviewed for a new job, her training start date was set, and she was fully on track, pending a Sterling background check. However, the offer was rescinded when the background screening included a petty theft conviction that should never have been included in her report. Specifically, though Wynisha was charged with petty theft, she entered a plea of "not guilty," and the case was dismissed. However, Sterling reported it as though she had, in fact, been convicted.
To make matters worse, she was charged with this crime prior to the look-back period for criminal history records in the state where she resides. So, not only did Sterling include inaccurate and misleading information in her background check report, but this erroneous information should never have been included in the report to begin with! We took Wynisha's case to show that she suffered real financial and emotional harm when Sterling violated her rights under the FCRA!
Ask for Our Help Now
With no out-of-pocket cost to you, there is nothing to lose in discussing your Sterling Infosystems background check reporting error with one of our skilled consumer protection lawyers today!
There are several ways to reach us: call (+1 877-615-1725), email (info@consumerattorneys.com), fill out the online intake form, or use the virtual chat option to speak with us now.
With a nationwide practice, we're always right where you need us to be. Call now.
Frequently Asked Questions
How long does a Sterling background check take?

Like all pre-employment background checks or post-employment monitoring, Sterling background check time can take several days to several weeks. A number of factors impact the timing, including (1) the categories of information the employer selects to review, (2) the level of detail in a particular individual's background, such as an extensive employment history, (3) the degree of surface-level similarities between the individual and other consumers, such as someone with a very common name or other common personally identifiable attribute.

How far back does a Sterling background check go?

The look-back period for the Sterling background check process varies from client to client, state to state, job to job, and even category to category. The answer to this question is not singular or simple. Federal, state, and local may dictate the look-back period for certain categories of information. So, an individual applying for a position in Texas may have a different look-back period for criminal and credit history data than a person applying for a position in Rhode Island.

What does a Sterling background check look for?

Sterling background checks are highly customizable to the client (your prospective employer), so the answer is not the same for every person, position, or screening. However, generally, Sterling background checks can include such things as civil, criminal, and motor vehicle records; sex offender and watchlist status; social media screenings; social security number tracing; credit data (including credit score, bankruptcies, and liens); drug testing; immigration status and work authority; educational and employment history verifications; and identity verification, among other things.

How do I check the status of a Sterling Infosystems background check?

The Sterling website contains a platform through which you can check your Sterling background check status. In order to access this platform, you will need to input your email address (the one used to register your account and provide the initial screening information) and the last four digits of your social security number. This platform can be accessed 24/7 online.

Which companies use Sterling background checks? Sterling has an enormous client base and is used by over 50,000 clients worldwide. Both for-profit and non-profit companies use Sterling products and services, including companies engaged in direct hiring and those that contract with other companies to do the hiring and screening process on their behalf. Some of the main companies that Sterling publicly identifies as clients include Lego, Kimberly-Clark, Siemens, ManpowerGroup, Grainger, HunterDouglas, Texas A&M, Amnesty International, and Crocs. In other words, Sterling Infosystems background checks are everywhere!