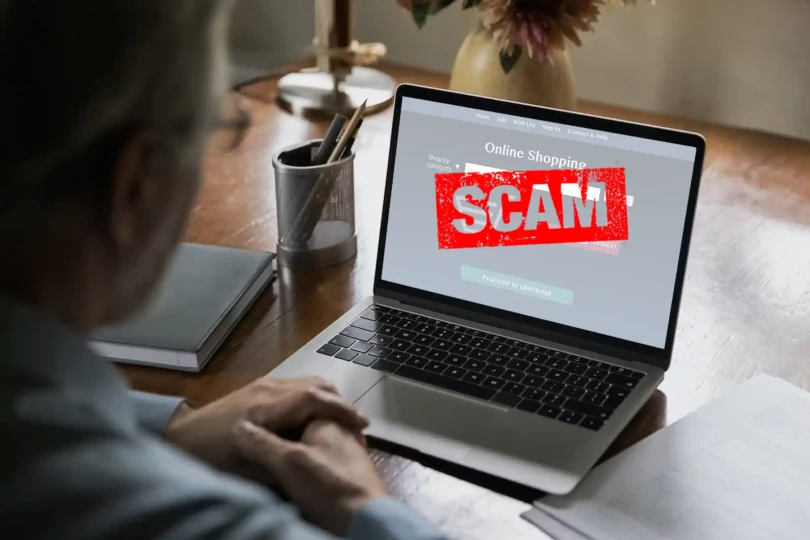 It turns out that younger, supposedly more tech savvy consumers are actually in the majority.
Consumers under 60, according to the data, are 86% more likely to report losing money to online shopping scams, with the likely culprit being fraudulent posts on social media
Scam Likely: New Study Shows That Older Adults Aren't the True Victims of Online Shopping Scams
As the holidays approach, there has been a surge in online shopping, and, unfortunately, a corresponding surge in online shopping scams. There has been a steep rise in online scams in recent years, with the FTC reporting that consumers lost more than $5.9 billion to fraud in 2021, a 70% increase from 2020. When most people think about individuals who fall for online shopping scams, they often think of the older generation who are less technologically adept and are sometimes unable to differentiate between normal and nefarious interactions on the internet. With fraudsters becoming savvier and more sophisticated in their methods, people who have limited experience online logically seem like the easiest target. However, new data from the FTC indicates that is not the case, and that, surprisingly, people under 60 are significantly more likely to fall victim to these scams.
Expert Consumer Affairs Attorneys Near You

If you are looking for a reliable consumer affairs attorney near me, look no further than our law firm. With over 10 years of experience, we have helped thousands of satisfied clients with their consumer rights issues, including dealing with debt collectors, credit reporting agencies, and identity theft. Our team of attorneys is dedicated to fighting for your rights and ensuring that you are treated fairly by companies and organizations. And the best part? Our services are completely free for clients. Contact us today to schedule a consultation and learn how we can help you.
New FTC Analysis Shows That Adults Under 60 More Frequently Fall Victim to Online Shopping Scams and Investment Scams
Data shows that in 2021, consumers from Generation X, Millennials, and Generation Z, or people between the ages of 18 and 59, are 34% more likely to have reported losing money to online fraud when compared to their counterparts over 60. Consumers under 60, according to the data, are 86% more likely to report losing money to online shopping scams, with the likely culprit being fraudulent posts on social media. Similarly, the study shows that people under 60 are four times more likely to report falling victim to an investment scam, as scams involving cryptocurrency investments are on the rise.
With that being said, the younger demographic, while reporting more frequent instances of falling victim to scams, did lose less money on the whole, with a median of an estimated $500 lost. This is compared to people in their 70s who reported a median $800 lost to online scams and $1,500 for consumers over 80. Consumers over 60 were five times more likely to fall victim to tech support scams and twice as likely to lose money on a prize, sweepstakes, or lottery scam.
What Is the FTC?
The FTC or Federal Trade Commission is a bipartisan federal agency with the main purpose of protecting consumers and protecting competition. They do this by targeting and preventing anticompetitive, deceptive, and unfair business practices by means of enforcing the law and protecting and educating consumers.
What Are the Most Common Types of Frauds?
In collecting this data, the FTC provided a list of the most common fraud types that consumers reported losses as a result of in 2021. This is the best predictor of the most common scam methods in 2022. They include:
Online Shopping
Business Imposters
Investment Scams
Government Imposters
Romance Scams
Tech Support Scams
Prizes, Sweepstakes, & Lotteries
Family & Friend Imposters
Fake Check Scams
Job Scams & Employment Agencies
In the digital era, scammers have not only turned to the internet to find and exploit their victims, but, according to FTC data, they've even learned how to best target different age brackets. For consumers between 18 and 59 years old, their initial contact with scammers most commonly came from social media (31%) and a website or app (30%). For consumers over 60, these initial contacts came in the form of phone calls (24%) and a website or app (21%), but social media-based fraud is on the rise within that demographic as well, at 15%.
How to Tell if Someone is Scamming You Online
Scammers are adapting to the times and online scams are increasingly harder to recognize than ever. Here are some helpful tips to spot and avoid online shopping scams:
The deal is too good to be true. If a seller is offering an unbelievably deep discount, or is advertising their product as having features and benefits that are nowhere else to be found on the market, this is likely a scam. As the old adage goes,if it seems too good to be true, it probably is. It is wise practice to check and see if the price is comparable to any other sellers before making a purchase. Internet security firm Norton advises consumers to be on guard if a discount exceeds 55%
Sloppy website design and poor use of English. Genuine retailers spend a lot of money and time making sure their online presentation is stellar.
Someone you don't know or regularly speak to contacts you unexpectedly, especially via social media, urging you to make a purchase. If you know this person, their account may have been hacked.
A social media-based store is very new and sells products at very low prices, while providing limited information about delivery, return, and similar store policies.
The seller insists on immediate payment by bank transfer, money order, gift card, or wire transfer. Most legitimate online shopping sites will have payment through a secure payment service like a credit card system or PayPal.
The online retailer is not providing sufficient information about privacy, terms of use, dispute resolution, delivery, returns, or contact details.
The site provides limited or suspicious means of contacting them, like the use of a single Yahoo or Gmail account rather than a corporate email address. Similarly, sites that don't provide a phone number for customer service or a postal address may be scams.
The seller is pressuring you to make a purchase.
The site or seller asks you to download software or enter personal information to access further sales or discounts.
Most importantly, trust your intuition. If you feel like making a purchase from this seller may be a scam, trust your gut and seek a more reputable site to make your purchases.
Are You Looking For Guidance on What to Do When You've Been Scammed Out of Money? Contact Consumer Attorneys.
If you've fallen victim to online shopping scams or have been otherwise scammed, you may be feeling embarrassed and wondering where to turn. You may be asking yourself if there is any recourse and if it is possible to make the situation right. The truth is, you are not alone in falling for one of the very convincing shopping online scams and with the help of an experienced team of attorneys who are dedicated to protecting consumer rights, you may be able to recover what you've lost. With over 10 years of experience and a track record of success, Consumer Attorneys is prepared to advocate for you when you've been scammed. Call us today for a free case consultation.