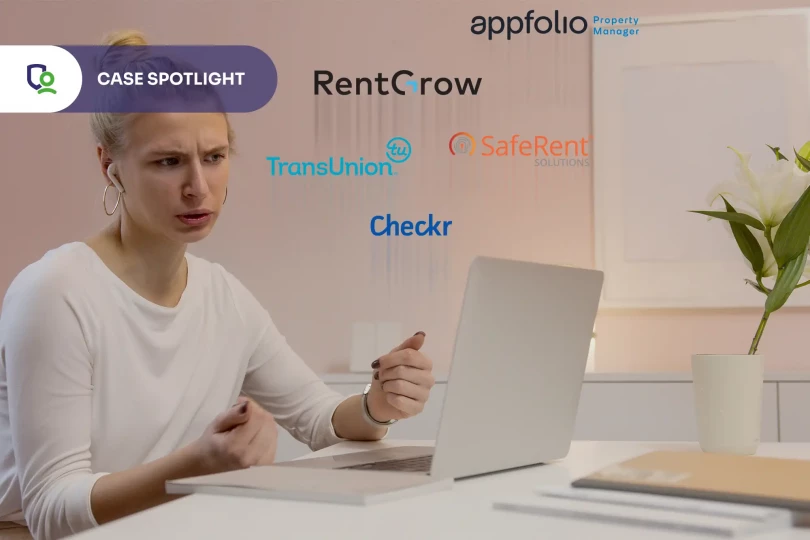 This is the (sadly typical) story of one of our clients and her struggles with inaccurate information appearing in background reports from no less than 5 different credit reporting agencies
Though her credit and housing history were solid, the nightmare of an incorrect consumer reporting agency background check fell on her out of nowhere
The CRA Circle of Sharks
On the surface this is simply another example of a family's economic potential being unfairly and unnecessarily downgraded or destroyed. But any scrutiny into Jane's* struggle suggests some collusion in, or at least mutual codependency on, keeping an individual down after they have sought corrections to their tenant screening reports.
Living in South Carolina with her fiancé and five children, Jane accepted a healthcare job in Georgia. This was spring and there was ample time to secure housing and a new job for her soon-to-be husband. Though her credit and housing history were solid, the nightmare of an incorrect consumer reporting agency background check fell on her out of nowhere.
Benefits of Hiring a Consumer Rights Lawyer

A customer lawyer is a legal professional who specializes in representing clients in cases related to consumer protection, product liability, and other consumer-related issues. At our law firm, we have a team of experienced and dedicated customer lawyers who work to protect the rights of our clients. With over 10 years of experience in the field, we have successfully helped thousands of clients navigate complex legal matters and recover millions of dollars in compensation. Our services are always free, and our clients only pay if we win their case. If you are in need of legal representation for a consumer-related issue, contact our firm today to schedule a free consultation with one of our skilled customer lawyers.
An insignificant dispute about housing
Some years earlier, a landlord had reversed an agreement to rent-to-own a house Jane and her family had been occupying. The landlord had stipulated in their contract that they could sell anytime, regardless of verbal agreements. She was given three days to move a large family that had been settled there for nearly a year.
Jane* had to fight in court just to get her family ten days time for the move. The dispute was resolved amicably with the judge insisting that no money was owed for that period. It was uncomfortable, but no harm, no foul. Then, years later when she tried to move her family to Georgia, she was submitted to a list of consumer reporting agencies.
Cascading inaccuracies
First came Checkr Inc., who provide background checks they obtain from unverified data-furnishers. They are also associated with the E-check phenomenon. Once a series of Jane's applications had been denied, it became clear that not only was Checkr's background check providing inaccurate information about the old landlord dispute, they were listing it in the "Evictions" category of their reports. It was a slipshod report, including terms that do not even appear in South Carolina landlord-tenant laws. After time and much red tape, the report was supposedly corrected. It was now early summer.
Next came RentGrow, a wholly owned subsidiary of Yardi Systems, Inc. Our firm is well familiar with the problems that Yardi resident screenings have created for innocent, working Americans. RentGrow's tenant screen recast the event in ambiguous terms and kept the data in the "Evictions" category. This led to another period of rejections, even with Jane* calling and providing proof that she'd had a house sold out from under her, and never been evicted from anything.
At roughly the same time, she was having similar problems with Transunion Rental Security Solutions. Transunion is one of the biggest corporations currently profiting from the easy misreporting of consumer data. The corporation insisted on continuing to present the events in the "Evictions" category. The damage from having these inaccuracies leap-frogging between consumer reporting agencies was wearing her family down, financially and physically.
SafeRent, a company that had formerly been called Core Logic Rental Property Solutions, was next to propagate false data. Again, they were provided with proof but still failed to delete the materially misleading information from her tenant screening report. By now, the cost and strife of living in hotels was keeping Jane* financially underwater.
A never ending whirlpool
Finally, after an endless string of rejections, Jane learned that now a consumer data corporation called AppFolio was reporting the story in the "Evictions" category of their background check. She contacted them right away and explained that the house was sold, and she was not evicted. In AppFolio's response, it indicated that it had reviewed the public records and verified her report as "accurate." When she protested, she was invited to provide supporting documents to prove AppFolio's post-dispute reporting of the report was inaccurate. She responded and attached a number of documents to prove that the house was sold, and she was not evicted. AppFolio still refused to reinvestigate her case.
No end in sight, is that intentional?
It was the end of summer before Jane and her family had a home. Their lives and finances had been destroyed by a circle of companies and corporations. These groups not only make money directly from the sale of unverified data, but profit indirectly from slowing any correction of their mistakes. The people they hurt tend to stay hurt for long enough that some do not ever recover. It is worth wondering if this is by design.
Justice prevails!
The good news is, we were able to get Jane and her family a very significant series of settlements. When multiple firms continue to propagate inaccurate information, we have to sue them all individually, almost always settling out of court with each one. We couldn't repair or undo the emotional trauma she and her family suffered, but we were able to repair her background report and put some money in her pocket to get her life back together again.
*Names of clients are changed in order to protect them.