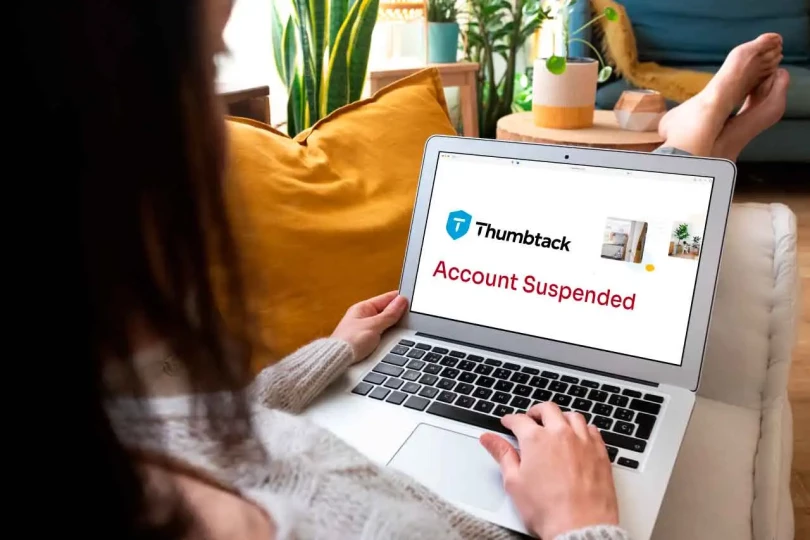 Thumbtack's Background Check Policy and Dispute Resolution Process
Overcome Thumbtack Background Check challenges with our expert legal solutions. As experienced attorneys, we are equipped to address and resolve any errors or issues that may arise during the background screening process, ensuring your peace of mind.
What is Thumbtack?
Thumbtack is a popular online platform connecting customers with service professionals in their area. It has become a trusted resource for various industries. The platform is basically a marketplace where customers and service providers can find each other in a transparent business environment; kind of like an Uber for service workers. Thumbtack facilitates the process with customer reviews, a background screening process for service workers, and verification of their basic qualifications. If you're a service professional and considering using Thumbtack, it's important to understand their background check and vetting policy as well as their dispute resolution process. In this article, we will discuss Thumbtack's background check requirements and what to do if you need to dispute the findings of any information on a Thumbtack background report.
Does Thumbtack Do Background Checks?
The short answer is yes. A thumbtack background check is required for certain classes of workers, what Thumbtack refers to as "pros". Their online site doesn't clearly articulate what work or services offered require a background screening, but if you apply to be a service provider on their site they will let you know if the work you're doing will require a background check.
How Far Back Does a Thumbtack Background Check Go?
The timeframe can vary depending on Thumbtack's guidelines and the specific service category. While general background checks usually cover a period up to 7 years, a longer period is possible for industries that have specific risk assessment criteria that require it.
Why Does Thumbtack Require a Background Check?
The platform prioritizes safety, reliability, and customer satisfaction as it aims to create a trustworthy environment for users, especially for services that involve direct access to customers' homes or personal information. They have a similar responsibility to ensure their Pros are properly licensed and insured, like any kind of referral business. While Thumbtack may not require a background check for every professional, they do mandate it for many service categories to ensure customer peace of mind.
Understanding Thumbtack's Background Check Components
A typical Thumbtack background check comprises several components, primarily a criminal record search, sex offender registry search, and global watchlist search. Thumbtack considers both the type of offense and the time elapsed since the offense in determining eligibility. So, what might make you ineligible? A conviction for a felony or misdemeanor related to violent crimes, sexual offenses, theft, or property damage could pose an issue. Other disqualifying factors could include being registered on the National Sex Offender Registry or Global Watchlist. It's important to know that not every criminal record will disqualify you; Thumbtack takes a nuanced approach, considering the specifics of each case.
What If Your Background Check Is Pending?
Sometimes, a Thumbtack background check might take longer than expected. While Thumbtack aims to complete the process within a few days, some checks can take weeks. Delays may occur due to various reasons, such as discrepancies in personal information, or if local courthouses are slow in providing records. While this can be frustrating, it's essential to remain patient and maintain open communication with Thumbtack.
Understanding Thumbtack's Rating and Review System
In addition to the background checks, Thumbtack also utilizes a comprehensive rating and review system. This system serves as another layer of security and accountability, allowing customers to make informed decisions about the professionals they hire. As a professional, your reputation on Thumbtack significantly hinges on these ratings and reviews. Building a strong track record of satisfied customers will help you thrive on the platform.
Background Re-checks: An Ongoing Process
Once you've passed a background check, it's essential to know that Thumbtack periodically rechecks the backgrounds of its service professionals. This ongoing commitment helps maintain the high standards of the platform and ensures customers can confidently hire professionals. So, just because you've passed once doesn't mean you can let your guard down. It's crucial to maintain good practices and uphold the standards that made you eligible in the first place.
Handling Background Check Costs
Unlike some platforms that require professionals to pay for their background checks, Thumbtack covers this cost. This approach is part of Thumbtack's commitment to fostering an inclusive environment for service professionals. It removes a potential barrier to entry and means that professionals can focus on what truly matters: providing excellent service to their clients.
Importance of Truthfulness
Finally, it's crucial to be truthful in providing information for your background check. Any attempt to falsify information will likely lead to disqualification. Moreover, honesty helps foster trust and transparency, integral values in any service-oriented business.
Thumbtack Dispute Resolution
If there is an adverse action taken on your application to be a Thumbtack service provider, you are entitled to receive a copy of your background report. Oftentimes, background reports can include inaccurate or misleading records that unjustifiably cause a denial of a service professional's application. Thumbtack is known to use the services of Checkr (a large consumer reporting agency) as well as other sources like Hireright to obtain criminal records about prospective service providers. If you see anything inaccurate or misleading on that background report, you should immediately contact a credit reporting lawyer to assist you in disputing the inaccuracy. If they fail to correct it quickly, Thumbtack and its data furnishers may be in violation of the FCRA (Fair Credit Reporting Act) under which you have important rights and could be entitled to compensation.
Dealing with Inaccuracies on a Thumbtack Background Check
What happens if you fail a Thumbtack background check due to an inaccuracy in the report? Failing a background check can be a stressful experience, especially if the reason lies in an inaccurate report. If you encounter such an issue, you should take the following steps:
Contact the Background Check Company: Reach out to the company that conducted the background check, probably Checkr/Hireright.
They should provide you with a copy of the report and give you the opportunity to correct any inaccuracies.
Dispute the Inaccuracy: If you find an error on the report, file a dispute. The background check company is legally required to investigate your claim. If they don't, you can pursue litigation against them.
Find an Experienced Attorney: At this point, it's a good idea to get legal advice about your rights and how to move forward. At Consumer Attorneys, we have many years of experience with background cases and millions of dollars in settlements, including many against Checkr and Hireright.
Thumbtack Charge Disputes
It's important to understand that there are multiple categories of disputes that can arise on Thumbtack for various reasons, including service quality, pricing, or miscommunication. When customers encounter a charge dispute, Thumbtack advises engaging in direct communication with the professional to address the issue. This is very different then a service pro disputing a background check. Make sure you are pursuing the correct avenue for your issue. If you're not a customer with a charge issue, but a pro looking for customers who can't due to your background check, it's important to look in the right places and follow the correct procedures.
Keep Up to Date
Even though we've attempted to provide you as much information that we believed was necessary, it's a good idea to obtain the most up-to-date information about Thumbtack's background check process by visiting their official website or by reaching out to their support team directly. If you have ANYTHING that looks suspicious or incorrect on your Thumbtack background report, reach out to us immediately!
Empowering Consumers: Know Your Rights
As a consumer, it's crucial to understand your rights and the safety measures taken by platforms like Thumbtack. Should you encounter any issues or require legal advice, don't hesitate to reach out to us at Consumer Attorneys. We offer free services and have extensive experience with a plethora of successful case studies under our belt. We are dedicated to helping consumers safeguard their rights and navigate the digital marketplace with confidence and ease. Email us at info@consumerattorneys.com, drop us a message on our online chat consultant, or call +1 877-615-1725. We're here to empower and assist you!