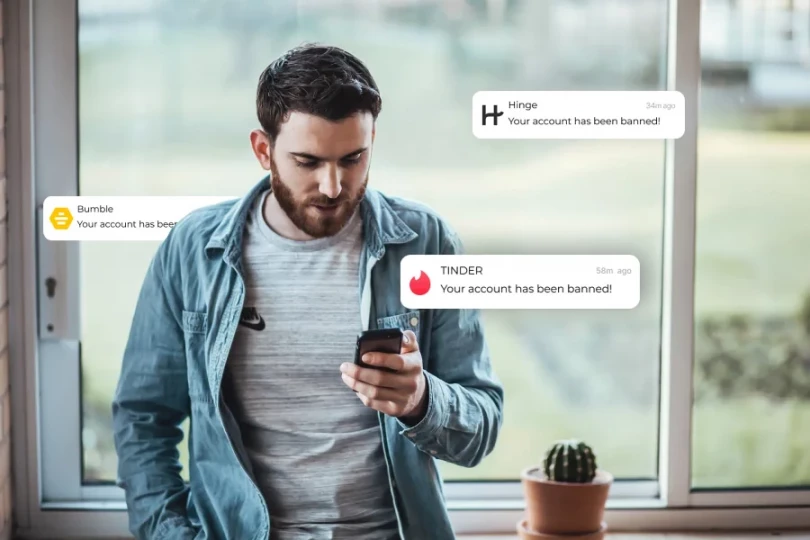 Automated Background Reporting Mistakes Can Get Users Banned from Dating Apps
Many users are unaware that when they agree to most datings apps' terms of service, they're consenting to background screenings that can result in false and damaging reports
Since the pandemic drove the world indoors, dating app usage has become as ubiquitous as masks and hand sanitizer. In March of 2020, Tinder, which is owned by Match Group, broke its own usership records. Hinge, also owned by Match, tripled its revenue in 2020 compared to the year prior.
While life has since resumed, the cultural shift toward reliance on dating apps to meet potential partners is as strong as ever. Data from Sensor Tower found that worldwide usage of Tinder, Hinge and Bumble grew 17 percent this year, but what many of those users likely don't know is that they can easily be banned from those apps thanks to a small section in their terms of service agreements.
"YOU ARE SOLELY RESPONSIBLE FOR YOUR INTERACTIONS WITH OTHER MEMBERS. YOU UNDERSTAND THAT TINDER DOES NOT CONDUCT CRIMINAL BACKGROUND CHECKS ON ITS MEMBERS OR OTHERWISE INQUIRE INTO THE BACKGROUND OF ITS MEMBERS. TINDER MAKES NO REPRESENTATIONS OR WARRANTIES AS TO THE CONDUCT OR COMPATIBILITY OF MEMBERS. TINDER RESERVES THE RIGHT TO CONDUCT – AND YOU AUTHORIZE TINDER TO CONDUCT – ANY CRIMINAL BACKGROUND CHECK OR OTHER SCREENINGS (SUCH AS SEX OFFENDER REGISTER SEARCHES) AT ANY TIME USING AVAILABLE PUBLIC RECORDS OBTAINED BY IT OR WITH THE ASSISTANCE OF A CONSUMER REPORTING AGENCY, AND YOU AGREE THAT ANY INFORMATION YOU PROVIDE MAY BE USED FOR THAT PURPOSE."
TL;DR: When you sign up for most dating apps, you're agreeing to allow the companies that operate them to potentially conduct background screenings that can include criminal background, sex offender registry and other public records. Last year, Match Group also partnered with the nonprofit Garbo to allow users on Tinder to run in-app criminal background checks on other users.
This may seem like a win for user safety on platforms that are notorious for the dangers they pose, particularly for women: In 2019, a ProPublica investigation exposed registered sex offenders using Match Group's free patforms like PlentyofFish, OkCupid and Tinder.
But as with all automated reporting, errors like mixed identity are common and disproportionately affect low-income users and people of color. Users who have past convictions for non-violent offenses are also frequently and abruptly banned from dating apps without explanation, according to a report from NBC News and the Marshall Project.
How can criminal record checks on dating apps affect me?
Even if a dating app user has a spotless record, they can still find themselves suddenly banned from dating apps because of erroneous information in a background report. In fact, mistakes in consumer reports are so common, hundreds of thousands of complaints are filed yearly to correct them.
Some of the most common background screening errors include:
Inclusion of expunged criminal records
Multiple entries for a single criminal offense
Mistaken identity, which means criminal information for another person with a similar name or information, could show up on your report
Incorrect or more severe offenses listed, such as a felony appearing for a person with only a misdemeanor conviction
Typos
Outdated negative information
Copy, filing and search mistakes
What is Garbo and how does it work?
Garbo is a nonprofit background check service that partnered with Match Group in 2021 to allow users to run in-app background checks on their Tinder matches for a fee.
Users access the feature through Tinder's safety center, which takes users to Garbo's website. Users then pay $2.50 plus processing to run a background check on their match with as little as a phone number and first name. Garbo claims to be an "equitable" background check service, excluding non-violent drug offenses, loitering, vagrancy and other minor offenses from its reports.
What can I do if I'm a victim of false reporting on a dating app?
It's unclear whether all dating apps provide users with the reason for their ban. If you suspect false background reporting could be the culprit, there are rights guaranteed by the Fair Credit Reporting Act that consumers can take.
By law, consumer reporting companies must correct any errors in a background report within 30 days of a dispute being filed.
First, you must call the credit reporting company and submit a written dispute letter outlining the mistakes in the report via certified mail. It's wise to submit information that confirms your claim, such as in the case of mistaken identity. Unfortunately, you will have to contact each reporting company with incorrect information on file individually and file individual disputes.
Once the information in your report is corrected, you're entitled to ask the screening agency to give the revised report to anyone who has received a report about you within the last two years. You may also request a free copy of your report within 60 days.
If you've taken these steps and are having issues making progress, or you feel you've suffered an undue burden as a result of background reporting errors, let us know if Consumer Attorneys can help.