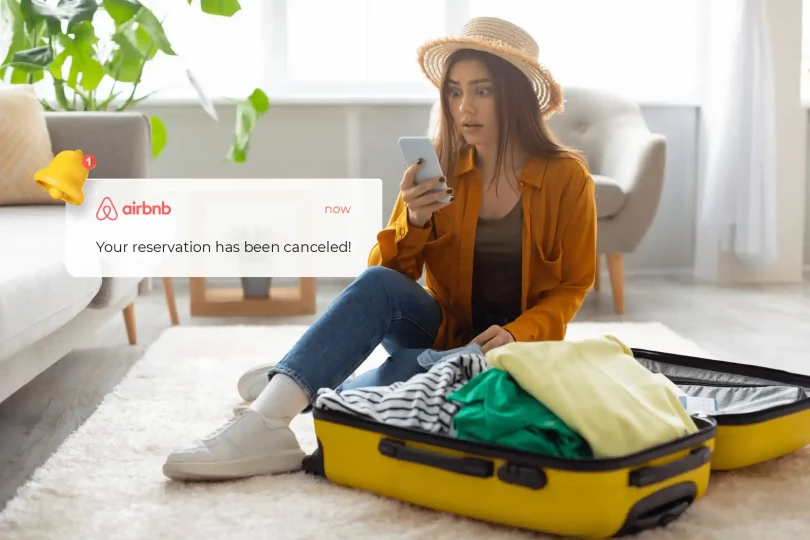 Airbnb is a popular vacation rental marketplace that lets guests and hosts book accommodations in different cities. As you might expect, many companies offer similar services, but Airbnb has become the largest and most popular of them all.
Airbnb does use a verification process that includes Inflection background checks. This company has access to extensive criminal record databases, which other websites do not have. These host screens allow hosts and guests to weed out potentially dangerous situations before they arrive at their properties.
The company has made these records available through its website so users can see if potential travelers have an arrest or conviction record - and these comprehensive searches have significantly contributed to its success as an online platform over competitors who do not offer this type of transparency when it comes to guest safety measures.
Is Airbnb Popular?
Airbnb is the largest online vacation rental market. It has over 60 million users each year, and it's available in 190 countries. In fact, Airbnb is such a massive marketplace that it's not only the largest provider of vacation rentals but also one of the biggest travel companies in the world.
Ensuring Accurate and Reliable Reports: Dealing with Hireright Background Check Errors

Hireright background check process may sometimes result in errors, such as incorrect information and incomplete reporting. These errors can impact job seekers, leading to missed opportunities or even denial of employment. If you have encountered issues with Hireright background check errors, it's important to take proactive steps to address the situation. Contact our legal firm for professional guidance and support in dealing with Hireright background check mistakes and protecting your employment opportunities.
Why should you care?
Imagine saving up thousands of dollars to take a vacation to Europe. You have spent six months ironing out all the details, including securing your new vacation rental in Greece, Italy, and France.
Two weeks before you go, you receive an email from Airbnb letting you know you will no longer have those reservations. You'll receive a full refund, but your account is now locked out because they used Inflection background checks to discover you have a criminal record.
You now have the option to try and contest these findings by providing your social security number and getting into a long, drawn-out back and forth with two massive corporations or trying to have someone else sign up and risk losing any housing plans for your trip.
Airbnb Checks on Guests and Hosts
Airbnb runs background checks on applicants. Most other vacation rental companies don't do this because they're not legally required to. These steps include carrying out thorough background checks of all potential guests before allowing them to book a listing. This can be helpful for hosts who want extra peace of mind when renting out their property - and it may also be reassuring for weary travelers who are worried about staying with strangers.
However, the problem happens when an error is made in the criminal record check. For example, say you have the same name and birth date as someone with an extensive criminal record from your state. Airbnb may disqualify you from renting because they think you are the other person based on your Inflection screening report.
That is much worse if you have been a loyal host for years, invested thousands of dollars in your rental property, and suddenly lose that ability because of a false background check or unreported error.
What is an Inflection Background Checks?
If you're like us, you probably have a lot of questions. What is an inflection background check? How does it work? Is it really as good as they say?
Inflection Background Checks is an online background check company that offers a variety of services to help employers confirm the qualifications of their potential employees, including criminal record checks, driving record checks, education verification, sex offender registry searches for individuals who are registered sex offenders - even employment verification for those who have worked at specific companies before applying for jobs with other companies.
Can there be an Error on My Background Check?
According to the National Background Investigations Bureau (NBIB), the most common errors that occur on background checks are:
Data entry errors. These are mistakes in typing or keying in data into the system, such as a name misspelled or a social security number transposed.
Data matching errors. Sometimes your information doesn't match up with other agencies, like when they have you listed under two different names or in two different states. This can happen because of outdated databases, incomplete records, or errors made by individuals entering information into their own computer systems for later use by other agencies such as those conducting security investigations for a company like Airbnb.
Validation error (DGI). These occur when an employee at NBIB reviews all of your information from various federal law enforcement agencies and determines whether it looks consistent enough to warrant approval for access. If they find something that looks suspicious (like multiple addresses listed) then they will flag it until further investigation occurs before making any final determinations about whether someone should receive access rights at all.
How Do I Fix These Errors?
There are many ways to handle errors. First and foremost, you'll want to contact Inflection. They'll be able to help you with your problem and assist you in getting a new background check processed.
You should also contact Airbnb. They might have a way of fixing your situation that doesn't involve Inflection - or they may give you some advice on what else you can do next.
They must furnish a copy of your background check report within a certain time. That gives you anywhere from 30-60 days to respond with errors on your report and contest the information. That may not be the best thing when you have an upcoming vacation, but it can help avoid the situation in the future.
Inflection Risk Solutions Lawsuit
Inflection was held accountable for reporting errors in an Inflection Risk Solutions lawsuit. This class-action lawsuit was brought by consumers who disputed Inflection's inaccurate reporting about their criminal history, ranging from dates in 2018 to 2021. Specifically, there were two classes (or groups) of plaintiffs seeking damages for different types of reporting errors that reflected inaccurate, misleading, or false reporting by Inflection.
The first group of plaintiffs was limited to consumers from a single state (Minnesota) who had convictions for misdemeanor offenses (low-level offenses) that Inflection mistakenly reported as felony convictions (severe offenses). The other group comprised plaintiffs nationwide who had convictions for non-violent offenses that Inflection reported as violent offenses. Inflection Risk Solutions LLC ultimately settled the class action for four million dollars in 2022 but did not admit fault.
Though this particular lawsuit is closed to additional class members, Inflection can still be held accountable for its erroneous reporting. See below for information about whether you can sue Inflection or Airbnb.
Can I Sue Inflection or Airbnb?
Absolutely you can. If the company provided you with false information and caused harm to your reputation or other losses, such as financial loss, then it could be possible for an individual to file a lawsuit against them.
In addition, if a person does not receive their results after making a request within a certain time from when they were ordered by the housing provider, then that person may have grounds for a lawsuit against both companies if they are unable to successfully use these services in the future because of this delay.
Inflection is a consumer reporting agency required by law to follow the Fair Credit Report Act. They must provide you with verifiable information that you can double-check to ensure your reputation and ability to secure everything from a vacation property to a home loan is secure. Any time these agencies do not comply with the FCRA, they run the risk of being exposed to lawsuits for damages.
That is where we can help. As a leading team of attorneys and legal advisors in consumer-related situations, we can provide you with the knowledge, skills, and strategies to ensure your information is corrected correctly and you can seek financial and other damages from companies that harm your reputation.
It does not matter what company harms your ability to use your background correctly. We can help you find a workable solution so that you do not suffer setbacks due to an error far outside your control. Let's schedule a time to meet and discuss your case.