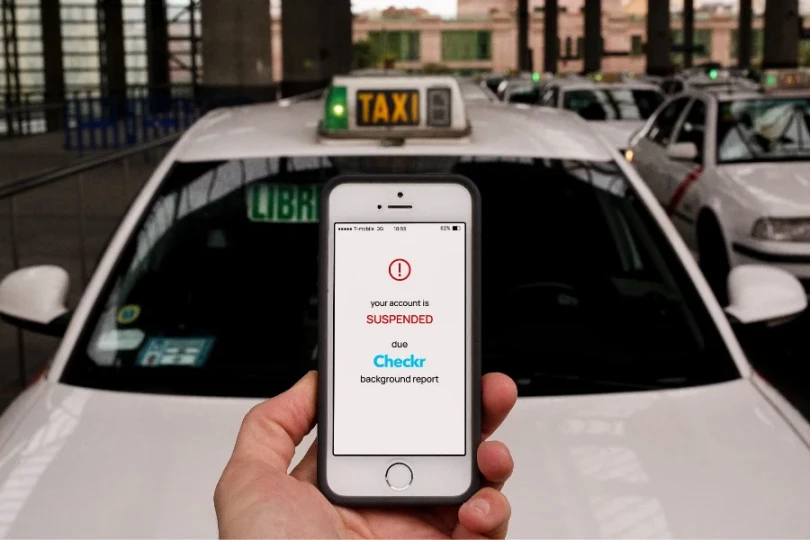 What to Do When A Background Report Gets You Denied for a Rideshare Job
Background check providers frequently make mistakes on their reports, which can cost you opportunities and compromise your ability to earn money. Keep reading for more information on how to Fair Credit Reporting Act protects you from these errors.
If you drive for Uber, Lyft, or another rideshare company, or you've applied to one, you already know you must undergo a background check before being approved as a driver. That means your criminal history, any traffic violations and personal information will be reviewed for red flags.
What you may not know is that background check providers frequently make mistakes on their reports, which can cost you opportunities and compromise your ability to earn money. Don't worry - under the Fair Credit Reporting Act (FCRA), you are legally entitled to have the report rectified and collect any wages lost due to background screening errors.
Dealing with a Hireright Lawsuit: Protecting Your Rights

In some cases, a Hireright background check can lead to legal disputes and lawsuits. If you are facing a lawsuit related to a background check conducted by Hireright, it's important to seek legal guidance immediately. Our experienced legal team can help you navigate the complexities of the lawsuit, protect your rights, and pursue a favorable resolution. Don't face a Hireright lawsuit alone - contact our legal firm for professional representation and support.
The Basics
Rideshare companies use Checkr to perform background checks. Checkr is a San Francisco-based, multi-billion dollar platform that uses AI to screen candidates' records, and it has major clients in Uber, Lyft, GrubHub, Doordash, Postmates, Netflix, Coinbase and Instacart.
First, Uber or Lyft must have written consent from you to run a background screening. You also have the right to know what's included in the report, which means you can request and review all the information in your report.
The FTC states that consumers are entitled to a free file disclosure if: "a person has taken adverse action against you because of information in your credit report; you are the victim of identity theft and place a fraud alert in your file; your file contains inaccurate information as a result of fraud; you are on public assistance; you are unemployed but expect to apply for employment within 60 days."
What is in my Uber or Lyft background report?
Checkr gives employers the ability to check candidates' criminal records, drug screenings and education.
If you consent to Uber or Lyft background screening, you can expect your report to include:
Global Watchlist Search
Driving records
National and international employment and education checks
Personal and professional references
Drug checks
Credit checks
Social Security number tracing
Sex offender registry
County, state, national and federal criminal checks
County and federal civil checks
Did false information or errors in your background screening cost you a rideshare job?
Although Checker's mission is to make background checks fairer, errors can and do occur in automated reporting, potentially causing you to lose out on opportunities.
Under the FCRA, you have protections to ensure your information is reported accurately. If you have any incorrect or certain pieces of damaging information older than seven years, like a misdemeanor conviction, you're legally entitled to have that information removed or corrected within 30 days of filing a dispute.
Common data reporting mistakes that can harm your rideshare driver status include:
Identity theft
Corrupted files
Outdated negative information
Mistakes in copy, filing and search process
Typos
Incorrect data in original documents
Including expunged criminal records in consumer reports
Multiple entries for a single criminal offense
Mistaken identity
What should I do if I was rejected from Uber or Lyft because of information in my background screening?
Rideshare companies must provide the information that led to your rejection in a document called an adverse action notice. The adverse action notice must contain the contact information for the background screening company and your rights to dispute.
Information that shouldn't be included, like an arrest older than seven years that did not lead to a conviction, can be disputed.
My background screen report is wrong. Can I dispute false information?
Yes! Background check companies are legally obligated to correct any errors in a background report within 30 days of a claim being filed.
The dispute process proceeds as follows:
The consumer contacts the background screening provider and sends a dispute letter via certified mail outlining the mistake included in the report. You may want to include information or documents that support the claim.
Within 30 days of the background screening company receiving your dispute, the company must investigate and report any mistakes.
Consumers are entitled to ask for a revised report for themselves or anyone who received their report within the last two years.
What are my rights? How can I get legal help now?
Here is a full summary of your rights under the FCRA:
You may seek damages from violators.
Identity theft victims and active duty military personnel have additional rights.
You must be told if information in your file has been used against you.
You have the right to know what is in your file.
You have the right to ask for a credit score.
You have the right to dispute incomplete or inaccurate information.
Consumer reporting agencies must correct or delete inaccurate, incomplete, or unverifiable information.
Consumer reporting agencies may not report outdated negative information.
Access to your file is limited.
You must give your consent for reports to be provided to employers.
You may limit "prescreened" offers of credit and insurance you get based on information in your credit report.
You have a right to place a "security freeze" on your credit report, which will prohibit a consumer reporting agency from releasing information in your credit report without your express authorization.
The bureaucratic and lengthy dispute process could mean you will be unable to earn money driving for a rideshare company for weeks. If you'd like to explore expediting the process, contact our attorneys for expert advice and a free consultation.