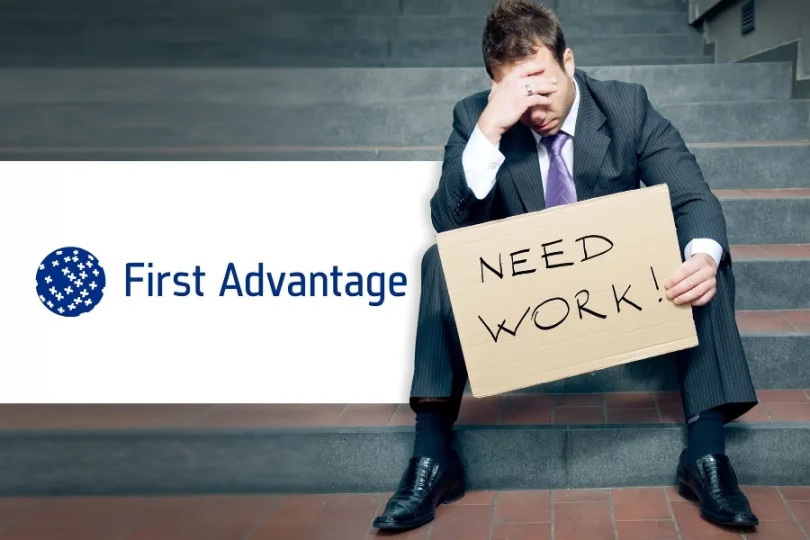 Onboarding for a new job is an exciting time, but complications like background check errors can arise, leaving you at a loss.
If your candidacy was compromised due to background screening platforms like First Advantage, keep reading to find out what you can do to rectify any mistakes under the Fair Credit Reporting Act (FCRA).
You have the right to dispute errors and sue for damages.
What is First Advantage?
First Advantage Background Services Corporation describes itself as a leading provider of background screening services to more than 35,000 organizations worldwide, including landlords and rental companies. It boasts offices in 26 locations across 14 countries, according to its website, and it performs roughly 71 million background screenings a year to more than 18 million people.
The National Associated of Professional Background Screeners-accredited company offers its services tailored by industries, such as retail, transportation, business services and more.
First Advantage provides the following information in its reports:
Sex offender registry
County, state, national, and federal criminal checks
County and federal civil checks
Global Watchlist Search
Driving records
National and international employment and education checks
Personal and professional references
Drug checks
Credit checks
Social media search
Licenses and credentials
Social Security number tracing
This service provider also offers fingerprinting, driver services, investigative research, and criminal records monitoring.
Everything You Need to Know About the Doordash Background Check Consider Process

If you're considering driving for Doordash, it's important to be aware of their background check process. As part of the hiring process, Doordash will conduct a background check on you through a third-party company called Checkr. This check will include a review of your criminal history, driving record, and employment history. Doordash will consider the results of this background check when deciding whether to hire you. If you have any questions or concerns about the Doordash background check consider process, our legal team can help. Contact us today to ensure that your rights are protected and that any potential issues are addressed.
My FIrst Advantage background check contained errors. Now what?
Like any background screening platform, First Advantage is prone to errors that can compromise your candidacy as a tenant or employee of a company.
Common errors in background screening reports include:
Typos
Incorrect data in original documents
Including expunged criminal records in consumer reports
Multiple entries for a single criminal offense
Reports listing negative information for people other than the candidate due to mistaken identity
Identity theft
Corrupted files
Outdated negative information
Mistakes in copy, filing and search process
Fortunately, you're protected by the FCRA, which grants you the right to dispute any mistakes or inaccuracies compromising your opportunities.
What are my disclosure rights and consent to background checks?
Regardless of the background screening provider, the FCRA covers your rights as a consumer and sets strict guidelines for how providers and employers use your information. No one can run a background check on a candidate unless the candidate provides consent in writing.
You also have the right to know what is in your file, according to the FTC, which says you may request and obtain all information about you in the files of consumer reporting. You're entitled to a free file disclosure if: "a person has taken adverse action against you because of information in your credit report; you are the victim of identity theft and place a fraud alert in your file; your file contains inaccurate information as a result of fraud; you are on public assistance; you are unemployed but expect to apply for employment within 60 days."
First Advantage caused me to lose a job opportunity. What can I do?
If an employer uses information in a background check against you, such as disqualifying your candidacy in a hiring process, the employer must provide this information to you in an adverse action notice. That notice must include the contact information for the background check company as well as your rights regarding disputing the report.
Can criminal records appear on my background check after 7 years?
Misdemeanor and felony convictions can stay on a background check indefinitely. But a Ninth Circuit decision made in the case of Moran v. The Screening Pros ruled that the limit for reporting criminal charges on background checks begins when the charges are filed, not when they're dismissed. That means employers should be aware that criminal charges exceeding the seven-year limit shouldn't appear in employment screens.
Furthermore, a report also cannot show employers civil suits, judgements, arrest records, paid tax liens, accounts in collection or most negative information older than seven years. Expunged convictions cannot be disclosed either.
Bankruptcies older than 14 years can also be used if the screening is being performed in connection with a credit transaction of $50,000 or more, a life insurance policy of $50,000 or more, or the employment of a candidate whose salary would be greater than or equal to $25,000
Can I dispute false information on my background check report?
The FCRA mandates that background check companies correct any errors in a background report within 30 days of a dispute being filed.
First, you must call the company and submit a written dispute letter outlining the mistakes in the report via certified mail. It's wise to submit information that confirms your claim, such as in the case of mistaken identity.
Once the information in your report is corrected, you're entitled to ask the screening agency to give the revised report to anyone who has received a report about you within the last two years. You may also request a free copy of your report within 60 days.
Can I sue First Advantage if my background report is wrong?
If you experience difficulty getting a screening company to correct your information, you may be entitled to statutory damages up to $1,000, punitive damages, attorneys' fees and other costs . A lawsuit could be the best way to resolve the errors in your background screening report.
In July 2021, Consumer Attorneys represented a consumer against a third party background screening company that was providing derogatory information on the consumer due to an error known as a "mixed file." This occurs in cases of mistaken identity in which the third party provides information on someone other than the consumer in question.
The defendant had been selling consumer background reports on our client containing credit and personal information on a completely different person. Screening companies frequently fail to follow reasonable procedures to ensure the accuracy of the information they provide, an oversight our experienced attorneys are more than happy to correct through litigation.
Your rights protect under the FCRA, get legal help now
You can find a full summary of your rights under the FCRA here:
You must be told if information in your file has been used against you.
You have the right to know what is in your file.
You have the right to ask for a credit score.
You have the right to dispute incomplete or inaccurate information.
Consumer reporting agencies must correct or delete inaccurate, incomplete, or unverifiable information.
Consumer reporting agencies may not report outdated negative information.
Access to your file is limited.
You must give your consent for reports to be provided to employers.
You may limit "prescreened" offers of credit and insurance you get based on information in your credit report.
You have a right to place a "security freeze" on your credit report, which will prohibit a consumer reporting agency from releasing information in your credit report without your express authorization.
You may seek damages from violators.
Identity theft victims and active duty military personnel have additional rights.
Contact our attorneys for expert advice: