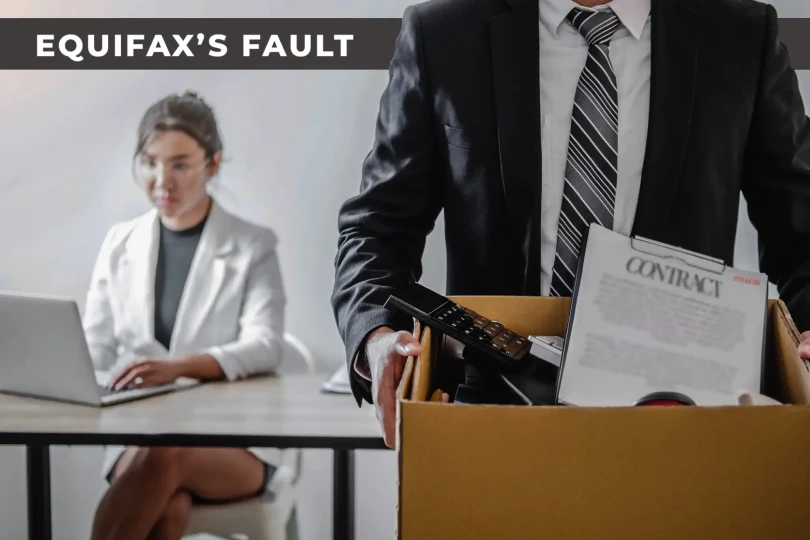 It might not seem fair, but companies are now able to research your background to determine if you're moonlighting.
Using their own tool "The Work Number", Equifax uncovered employees who were working a second job and fired at least 24 remote workers for having additional undisclosed employment.
With inflation soaring, the cost of living higher than ever, and the surge in remote work opportunities since the COVID-19 pandemic, many Americans have taken on a second or third job for extra income. Whether this is due to necessity, or wanting to have some extra cash from a side hustle, it has cost at least two dozen Equifax employees their jobs. At fault? Equifax's proprietary "The Work Number" tool.
What Is a Credit Reporting Agency?
Credit reporting agencies, also known as credit bureaus or companies, collect data, compile credit reports, and sell those credit reports. The Fair Credit Reporting Act or "FCRA" limits the reach of these companies and who may access these reports. You might wonder how the Fair Credit Reporting Act protects consumer rights. The purpose of the Fair Credit Reporting Act is to ensure accuracy and to protect your private information from being accessed without an explicit purpose. A credit report generally contains information regarding:
credit card balances, limits, and payment history,
loan history, balances, and repayment history,
inquiry history on the account,
bankruptcies,
unpaid child support or alimony, and
accounts in collection.
Even though the agencies are limited by the FCRA, that doesn't mean they aren't often in violation of the Fair Credit Reporting Act. However, there are ways to dispute a credit report or a credit reporting agency and win.
The Big 3 Credit Reporting Agencies
While there are other credit reporting agencies, three credit reporting agencies have cornered the market. They are Equifax, TransUnion, and Experian.
Equifax Fired 24 Employees for Having a Second (or Third) Job
Using their own tool, "The Work Number", Equifax uncovered employees who were working a second job and fired at least 24 remote workers for having additional undisclosed employment. Equifax claims this is because the now-ex employees were not allowed to take on extra work without Equifax's approval and were in violation of their employment contracts. Reports show that the former employees weren't violating their non-compete agreements. They weren't using insider knowledge or selling trade secrets. They were simply working a second or third job that Equifax hadn't approved.
What is Equifax's "The Work Number" Tool, and How Could This Affect Me?
"The Work Number" is a digital income and employment verification service. It has more than 140 million active income and employment records of workers across America, spanning each worker's entire career. The information in the reports created comes from employers and payroll processors.
It's very possible that "The Work Number" has your employment information on file. While Equifax used its own product to conduct this investigation, this product is available to other companies. Equifax sells these reports for $55. While the tool is most often used by mortgage and auto lenders, as well as an aid for government welfare applications, you can access your own report for a fee. You can dispute Equifax for any incorrect information on the report. While it currently appears that access to the tool is limited, Equifax using this tool to investigate their own employees is setting a dangerous precedent that such tools could be used for employment investigations in other companies.
What is Wrongful Termination?
Wrongful termination occurs when an employee is terminated in a way that breaches their employment contract or violates the law. If you entered an employment contract, your employer is bound by the contract and its terms. While traditionally an employment contract is written out and signed by both parties, in some cases verbal promises count and function as an implied employment contract. If you were terminated in a way that violates the agreements made in your employment contract, that is wrongful termination. Termination violates the law when it goes against an anti-discrimination law, or the termination was the employer's way of retaliating. For example, you can't be fired based on your race, gender, sexual orientation, pregnancy status, ethnic background, religion, disability, national origin, or age (when that age is over 40). Similarly, you can't be fired for filing a valid workers' compensation claim or bringing employer wrongdoing to attention as a whistleblower. Firing someone based on discrimination or retaliation is wrongful termination.
Can I Legally Have Multiple Jobs or a Job and a "Side Hustle"?
Generally speaking, unless you've signed a valid employment contract stating you won't take an additional job, there's no law against working more than one job. If you aren't doing a second job on company time, you're available within the parameters that your employer expects you to be, you're not using company property for your second job, and your performance in your main job remains consistent, a second job shouldn't get you fired. That being said, even if it isn't illegal, having a second job could get you into trouble under some circumstances. Specifically, if your second job is a conflict of interest with your current employment, you could be asked to stop working your second job or even be fired. This involves working for a competitor company, setting up a business that competes with your employer, or using insider work knowledge in your second job.
If you've signed an employment contract, it may include provisions for additional work. Some don't allow extra work. Others require company or HR approval for additional work or, if your contract involves a non-compete agreement, it may restrict your options for a second job. It's best practice to consult your employment contract, look over your company's policies, and speak to HR before taking on any additional work that could jeopardize your primary employment.
Have You Been Wrongfully Terminated for Having a Second or Third Job? Want to Sue Equifax? Contact Consumer Attorneys
With a robust, experienced team in employment law and a proven track record in fighting back against Equifax and similar credit reporting agencies, Consumer Attorneys is prepared to guide you through your case and contest your wrongful termination. Call us today to discuss your unique case with our team and learn how to dispute Equifax.