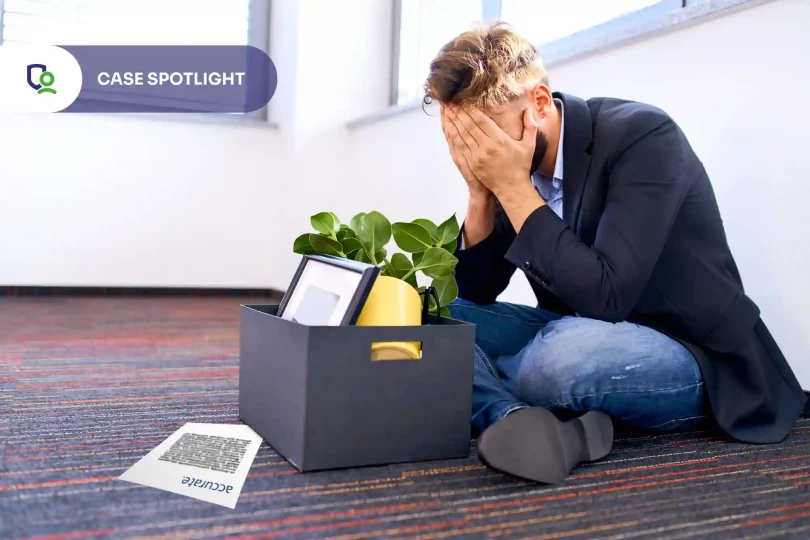 Yet another example of a credit bureau (ACCURATE BACKGROUND LLC , in this case) shamelessly ruining someone's life with their carelessness and indifference
Innocent people are often reclassified as criminals, deadbeats, and worse because of unmonitored computer errors that happen with painful regularity.
This case is one of many tragedies caused by identity mistakes made by American credit reporting agencies.
Tom faced many challenges as a result of the predictable and preventable loss of employment ACCURATE BACKGROUND LLC frequently causes through its careless practices. Cases like Tom's generally involve similarities between people's names. Innocent people are often reclassified as criminals, deadbeats, and worse because of unmonitored computer errors that happen with painful regularity.
An Unspeakable Identity Crime
Tom's case began with the death of his younger daughter, and his need for some bereavement time. His employer required him to resign and reapply afterwards. In the interim, he was offered a significantly better job at Amazon. As part of his job he had to get a third-party background check through
Accurate Background
Tom's background check included crimes that had been committed by someone else. The felonies were heinous, involving the worst offenses committed against children. Sadly, even such awful crimes being attributed to an innocent person are not remarkable in ACCURATE BACKGROUND's body of work. But the real criminal in question is Tom's father, and the original victim of the abuse was Tom's surviving, older daughter. This was the central trauma of Tom's life, and now Accurate was forcing him to relive it as if he were the guilty party. The man's life was destroyed.
Some Order Upon the Chaos
Here, we at Consumer Attorneys come into the picture. We are organizing the facts and events to show that Tom's terrible situation is hardly unusual. It fits neatly into the pattern of criminal negligence that these corporations are comfortable with. They blindly collect unverified data from unreliable third-party vendors to repackage and sell as their own employment screening commodities. It would have cost very little to repair these errors in a timely fashion. Instead ACCURATE BACKGROUND LLC dragged their feet, and a man in need lost so much more than a job. To give some sense of how easily these mistakes could have been fixed or avoided, Tom and his father have different dates of birth, social security numbers, driver's license numbers, and addresses.
There is also a three-inch difference in their heights. The only personally identifiable information they share is their names and the date of birth format in the reports. Court documents often feature words like "job denial, financial instability, emotional distress, and mental anguish". None of those terms seem strong enough to describe the situation this person was put in.
What We Are Up Against
It is wrong that we as a people must consider being accidentally given false criminal records that will drag down our lives. But it is insane that lives are being ruined on such a rising scale. Not simply for profit, but so that those making profits can avoid mere inconvenience. It might not cost them very much to do business within the rules of the FCRA, but any reduction in income is likely unacceptable to financial groups who amortize human suffering to calculate their next moves. Fortunately, we were able to get Tom a large settlement and get his report fixed, but while lawsuits like the one we are mounting for Tom can be quite successful on an individual level, they are no deterrent to the billions of dollars these Credit Reporting Agencies are making by letting the problem fester.